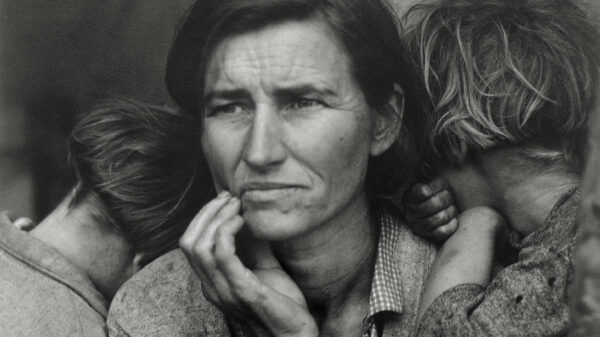 Dignity vs. Despair: Dorothea Lange and Depression-Era Photography, 1933-1942
March 2 - August 18, 2019
---
About This Exhibition
Few works of American art are more iconic than Dorothea Lange's photograph Migrant Mother, a striking image of a careworn woman struggling to help her family survive. This photograph is one of the masterpieces in Dignity vs. Despair: Dorothea Lange and Depression-Era Photography, 1933-1942.
Drawn from The Nelson-Atkins Museum of Art's renowned photography collection, Dignity vs. Despair highlights the work of Lange and four other photographers–Walker Evans, Arthur Rothstein, Marion Post Wolcott, and Peter Sekaer–each of whom documented the devastating effects of the Great Depression.
After the stock market crash in 1929, the United States experienced a deep and long lasting economic depression. Fortunes were lost and many found themselves jobless and homeless. Farms were destroyed due to drought and extreme soil erosion. The Farm Security Administration (FSA), created in response to the Great Depression, provided loans to farmers, resettlement options for destitute families, and camps for mi­grant workers. Governmental agencies like the FSA saw photography as an effective way to document the disaster–to show firsthand the need for humanitarian aid for suffering.
The exhibition of 64 photographs is arranged thematically and geographically into three sections. The first section includes Lange's images of urban hardship in San Francisco in 1933-38. The next section focuses on the South, an area hard hit by the Depression. The final section documents the plight of the migrant worker. The integration of images with the photographers' own words–excerpt­ed from captions, field notes, and interviews–gives a poignant look at one of the most difficult times in U.S. history.
This exhibition has been organized by The Nelson-Atkins Museum of Art.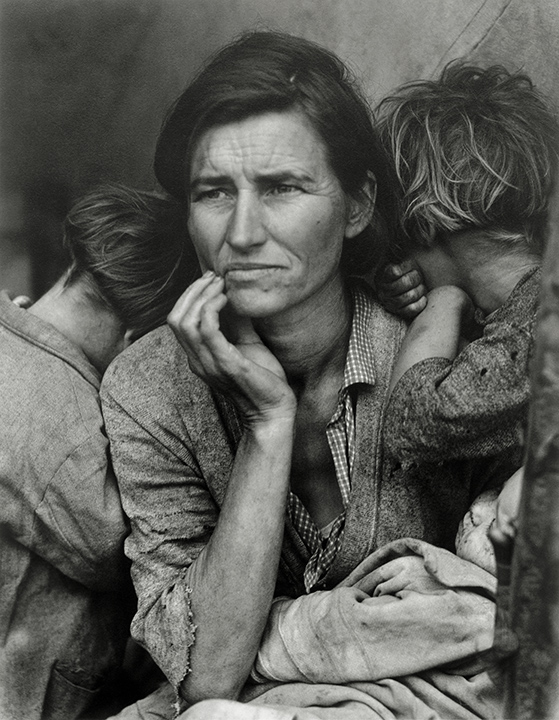 Dorothea Lange, Migrant Mother, Nipomo, California, March 1936; printed early 1960s. Gelatin silver print, 13 3/8 × 10 1/4 inches. The Nelson-Atkins Museum of Art, Kansas City, Missouri, Gift of Hallmark Cards