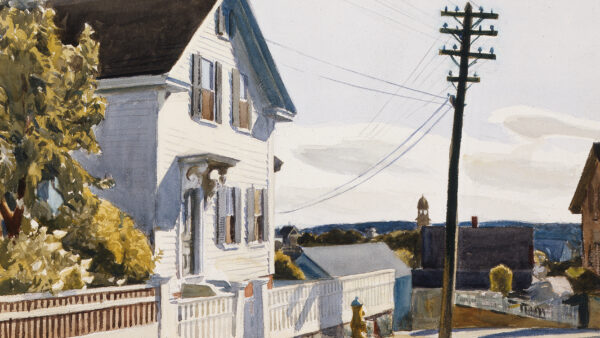 "Paper Dreams" combines the riches of two nationally prominent American art collections in new WAM exhibition
October 14, 2022
---
Featured artists include Alfred Maurer, Edward Hopper, John Marin and Charles Burchfield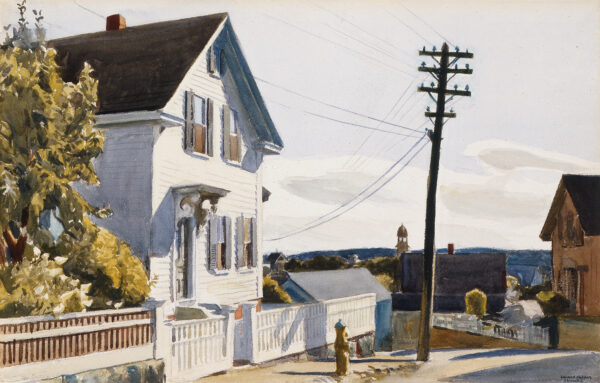 Edward Hopper, Adam's House, 1920. Watercolor and charcoal on paper, 16×25 inches. Wichita Art Museum, Roland P. Murdock Collection
The fall season brings Paper Dreams: Alfred Maurer and American Masterpieces to the Wichita Art Museum in the form of two beautifully paired exhibitions: Alfred Maurer: American Modern Works on Paper from the Frederick R. Weisman Art Museum Collection and Essence of Line: American Modern Works on Paper from the Wichita Art Museum Collection. Opening on Saturday, October 15, 2022, Paper Dreams combines the riches of two nationally prominent American art collections—from Minneapolis and Wichita.
Beginning in the early 20th century, American artists turned away from centuries-old subjects and styles, yearning to reflect their own time and unique experiences in a rapidly changing world. Renegades who championed self-expression, they ignored the rules and crafted their own freshly original art. Those modern masters expressed themselves with greatest immediacy in works on paper, including drawings, pastels, watercolors, and prints.
One gallery will feature work by Alfred Maurer (1868–1932), all from the collection of the Weisman Art Museum at the University of Minnesota in Minneapolis. From the artist's early success with academic classicism to daring Matisse-inspired fauvism to languid modernist muses, the exhibition presents the artistic development of one of America's leading avant-garde artists in the early 20th century.
In the neighboring gallery, American modernist gems from WAM will be proudly displayed. This world-class grouping includes incredible moderns such as Edward Hopper, Arthur Dove, John Marin, Maurice Prendergast, Charles Burchfield, and many more.
This combination of exhibitions will be a rare treat for Wichita and Kansas audiences—works on paper are particularly sensitive to light damage and restrictions limit the time these artworks can be displayed.
Paper Dreams: Alfred Maurer and American Masterpieces is organized by the Wichita Art Museum.
This exhibition has been underwritten by presenting sponsor Koch Family Foundation. Shaw Family Foundation provided additional major underwriting. Generous support has also been provided by Ann and Martin Bauer, Louise Beren†, Sue and Fred Berry, Emily Bonavia, DeVore Foundation, Helen and Ed Healy, Sondra Langel, and Georgia and Keith Stevens.
2022 exhibitions and public programs are generously supported by the Downing Family Foundation. All museum exhibitions receive generous sponsorship from the Friends of the Wichita Art Museum and the City of Wichita.
WAM Director/CEO Anne Kraybill and WAM Curator Dr. Tera Hedrick are available for interviews. Call Teresa Veazey, public relations manager, at 316-268-4985 or email pr@wichitaartmuseum.org.