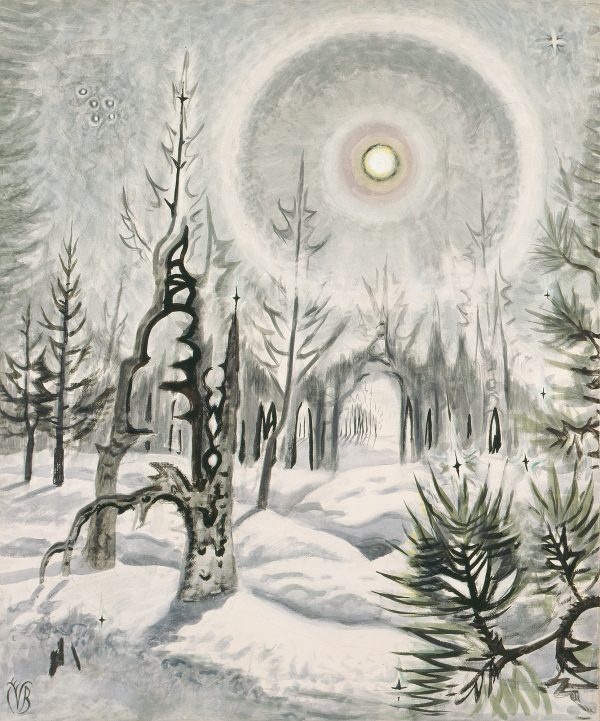 Winter Moonlight
Burchfield, Charles E.
1951
---
Artwork Information
Wichita Art Museum, Roland P. Murdock Collection
---
About the Artwork
Charles Burchfield was one of the leading watercolorists in American art during the first half of the twentieth century and a modernist who shared with other early American modernists, notably Arthur Dove and Georgia O'Keeffe, a preoccupation with the individual's private spiritual relationship to nature. Burchfield lived and painted in relative isolation in the rural environs of Salem, Ohio, and Buffalo, New York, the areas from which he drew the landscape and small town vistas that formed his subject matter. Winter Moonlight represents the heroic character of the artist's late work in the period of about 1947 to 1963 when Burchfield produced large scale expressionistic interpretations of nature's moods and seasons.
Burchfield owed his exclusive commitment to the medium of watercolor to his early training at the Cleveland School of Art where he studied Chinese scroll painting and saw the symbolist watercolors of Cleveland modernists William Sommer and William Zorach. Additionally, exposed to principals of decorative design, abstract ornament, and non-western art, Burchfield evolved an aesthetic that combined a feeling for the decorative surface patterns of color, simple shapes, and contours with the emotionally provocative potential of these same formal elements.
By the time Burchfield painted Winter Moonlight he had achieved a highly personalized repertoire of forms and symbols that recurred in his painting. In the book of hours that resided in his imagination, the notion of taking a walk through snow-covered woods at night with the moon at its zenith and winter at its peak of its frozen majesty was to experience an epiphany of nature's terrifying splendor. The composition of Winter Moonlight beckoned the viewer into what promised to be a transcendent passage by means of the foreground close-up of impish-eyed pine foliage linking to a crystalline white path edged by receding rows of skeletal, spiky pine trees, a path that culminates in a distant gothic-style archway of gray trees centered under the hypnotic eye of the moon. The only warm colors in an otherwise gray-white palette surround the moon. Energy pulsates from this orb in an animating force echoed by the curvilinear shadows in the snow and the angular zigzag edges of pine trunks and needles.
Winter Moonlight was the third acquisition in the Wichita Art Museum's present collection total of five excellent works by Charles Burchfield. Together these paintings represent the full scope of Burchfield's unique contributions of nature-inspired symbolist and regionalist imagery to American art over a productive career of fifty years.