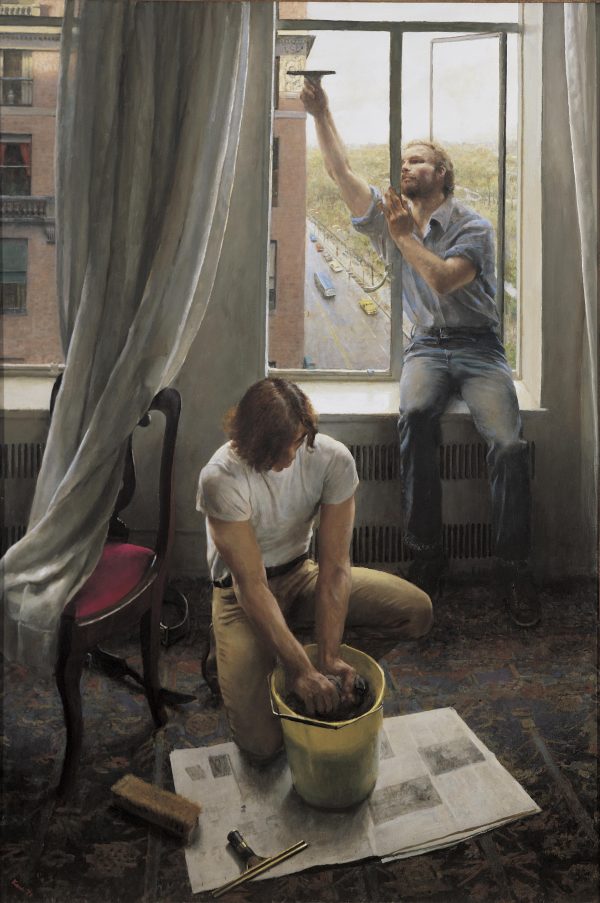 Close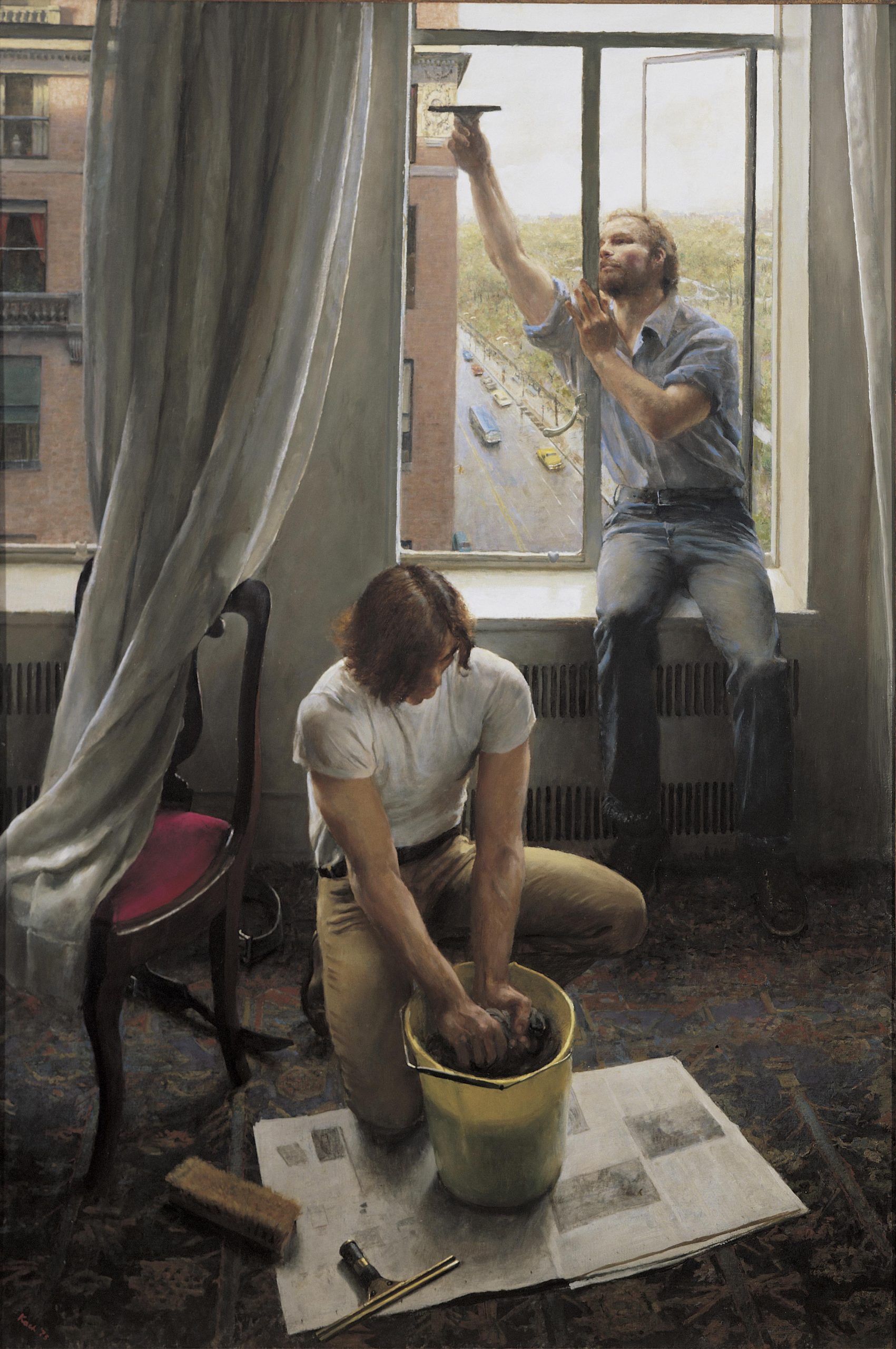 Window Washers, The
Koch, John
1975
---
Artwork Information
Wichita Art Museum, Museum Purchase, Paul Ross Charitable Foundation as a memorial to Paul Ross
---
About the Artwork
Art historian Michael M. Thomas described painter John Koch as "un petit maоtre, a little master," because he practiced an art whose realistic style and elegant, tranquil mood were outside the mainstream of abstract expressionism and other radical movements that preoccupied the art world of his day. Ignoring the modernist veneration of primitivism with its accompanying psychology of alienation, Koch created a private domain of genteel beauty in his Central Park West apartment, a real life paradise that directly inspired his painted realm of domestic interiors peopled by the artist and his wife, Dora Zaslavsky Koch, their friends, models, students, and employees. With exquisite technique Koch recreated the mellow, cultured atmosphere of the middle-class interiors portrayed by such 17th-century Dutch masters such as Vermeer and Pietre de Hooch by whose example he had taught himself to paint.
The Window Washers is a fine example of Koch's characteristic style and subject matter, a manner that he had fully codified by the time he had begun to earn good money as a society portraitist, and was able, in 1954, to move into the spacious rooms of two 10th floor apartments in the El Dorado building that would serve the couple for the rest of Koch's career as home, studio, and salon for gatherings of a select circle of friends.  In The Window Washers, as in all of Koch's oeuvre, light, whether artificial, natural—or both at once—functions as the artist's alter ego. Koch's light is the theater impresario who authoritatively enters a room, looking carefully and loving about as he does, and extends his hand delicately but firmly to bless all things beloved by the artist with touches of radiance, translucence, and quickening warmth.
The Window Washers is also a subcategory of Koch's interiors in which he depicted workmen attending to maintenance chores, a subject that insinuated the ideas of ordinariness and routine into a setting of studied delectation. Koch savored the quiet independent ritual of daily work in his studio and derived considerable contentment from the patrician view of city life offered by his north-facing studio windows: the neighboring apartment building with its lush pink brickwork, beaux arts architectural details and opportunity for inventing decorative window treatments, the aerial view of the traffic on Eighth Avenue including the iconic yellow taxi, and the green borders of stately Central Park. The Window Washers is essential Koch, each day lived as an exquisite measure of delight.