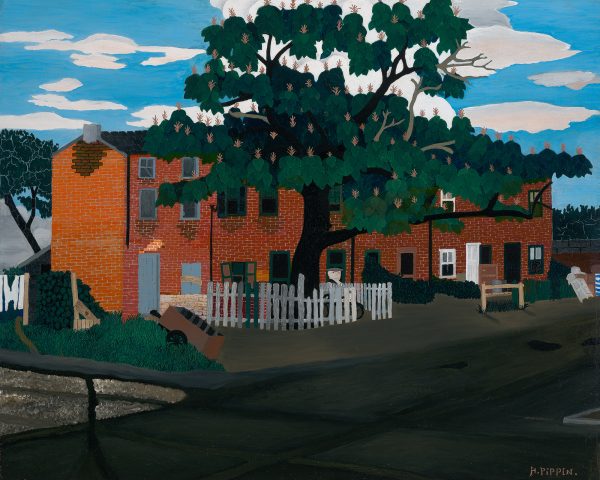 Close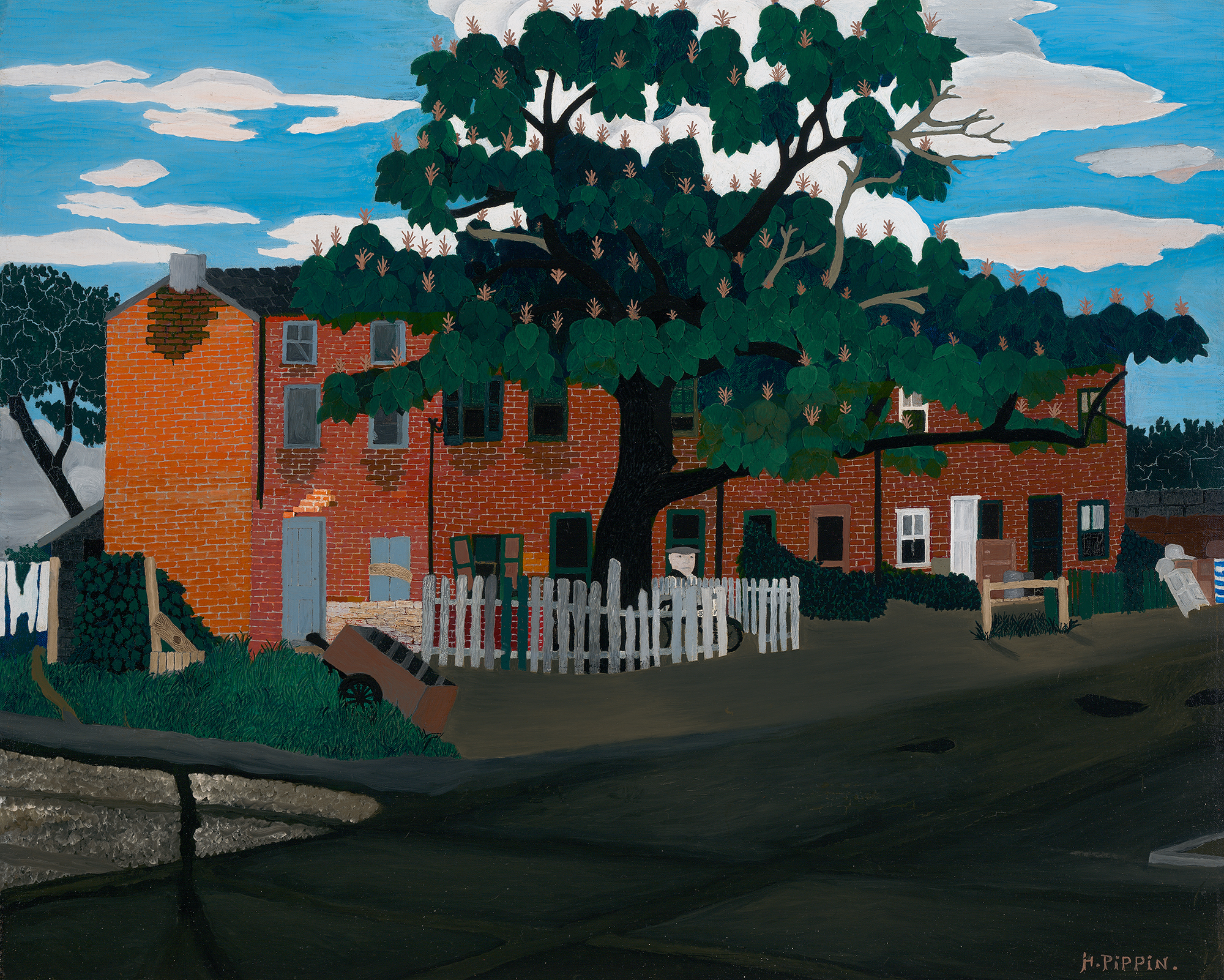 West Chester, Pennsylvania
Pippin, Horace
1942
---
Artwork Information
West Chester, Pennsylvania

Wichita Art Museum, Roland P. Murdock Collection
---
About the Artwork
"I paint things exactly the way they are," Horace Pippin explained to a colleague while painting West Chester, Pennsylvania. "I don't do what these white guys do. I don't go around here making up a whole lot of stuff. I paint it exactly the way it is and exactly the way I see it."1 A self-taught artist who completed his first picture at the age of forty-three, Pippin painted, in a bold, direct style, what he knew and observed. Pippin employed tightly controlled brushstrokes and simplified forms to render his highly personal visions, such as this view of brick row houses along a street in his hometown.
Born in West Chester, Pennsylvania, Pippin spent most of his childhood in New York State. After completing the eighth grade he went to work, supporting himself with jobs as a porter, mover, and iron molder before enlisting in the U.S. Army in 1917. His African American regi­ment was sent to France and soon after, Pippin was wounded in the right shoulder, leaving his arm permanently damaged. Upon his honorable dis­charge in 1920, Pippin married and moved back to West Chester, where he supplemented his disability pension by working as a handyman and delivering laundry that his wife took in.
Pippin's earliest extant works are six drawings that he made during his military service. For years, his crippled right arm prevented him from draw­ing, but in the mid-1920s he started burning images on wood panels using a hot iron poker. Later he began adding oil paint and worked on fabric, overcoming his disability by using his left hand to prop up his right forearm. Pippin's paint­ings and wood panels depicting his war experiences and childhood memories were largely unknown beyond his immediate family and friends until 1937. Although the exact circumstances surround­ing his "discovery" are debated, during that year the art critic and Chester County resident Christian Brinton saw Pippins work and arranged for his first one-man show at the West Chester Community Center.2  Pippins national debut came just a year later when four of his paintings were included in the Museum of Modern Art's exhibi­tion Masters of Popular Painting.
Pippin's works are relatively small and painstakingly rendered with little, narrow strokes. In West Chester, Pennsylvania, Pippin pays particu­lar attention to the central motifs and leaves other areas of the canvas less detailed. A broad field of gray indicates the vacant street in the foreground, interrupted by an open foundation in the lower left corner. The rest of the painting erupts with bright colors; the dilapidated red brick building is seemingly protected by a lush green tree, that liter­ally unites the earth with the cerulean sky above.
Signs of human habitation dot the painting: laundry hangs on a clothesline, a cart sets on the grass, a bicycle leans on the white fence, and old furniture clutters doorways and sidewalks. But an unsettling quietude pervades the painting, accentu­ated by the inclusion of a lone white man sitting under the tree canopy.
Recent scholarship has identified the location depicted by Pippin as a building near South Adams Street in an African American neighborhood.3 Pippin, however, chose not to insert a black indi­vidual into the scene, thereby denying the viewers stereotyped expectation of what racial "type" should be living in the area. Pippin seems more interested in affirming the everyday experiences of ordinary people—a subject that, in the end, is col­orblind.
1. Horace Pippin quoted by Edward Loper, interview with Marina Pacini, 12 May 1989, Edward Loper Papers, Archives of American Art, Smithsonian Institution, 34-35, cited in Judith E. Stein, et al., I Tell My Heart: The Art of Horace Pippin (Philadelphia: Pennsylvania Academy of the Fine Arts, 1993), 16.
2. Stein, 5.
3. Ibid., 87.