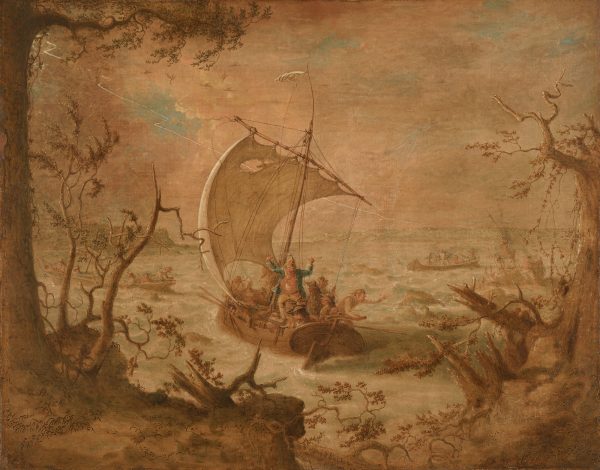 Close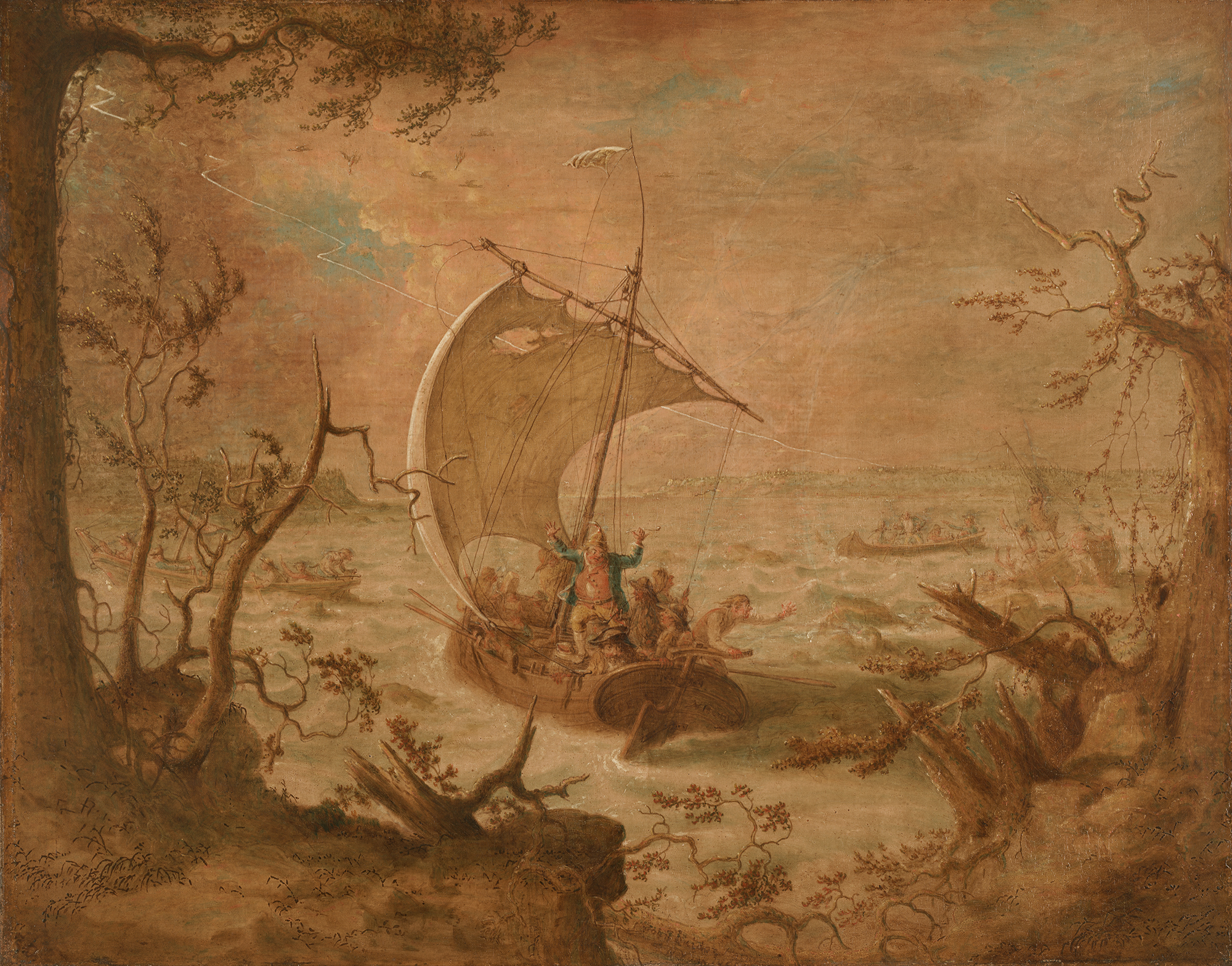 Voyage to Hell Gate from Communipaw
Quidor, John
about 1861
---
Artwork Information
Voyage to Hell Gate from Communipaw

Wichita Art Museum, Roland P. Murdock Collection
---
About the Artwork
John Quidor was one of America's first genre painters and Washington Irving's most effective narrator. Voyage To Hell Gate from Com­munipaw is an illustration from Irving's Diedrich Knickerbocker's A History of New York:
"In the joyous season of spring then, did these hardy adventurers depart on this eventful expedition, which only wanted another Virgil to rehearse it, to equal the oft sung story of the Eneid—many adventures did they meet with and divers bitter mishaps did they sustain, in their wanderings from Communipaw…until they came very nigh being shipwrecked and lost forever, in the tremendous vortexes of Hell Gate, which for terrors, and frightful perils, might laugh old Scylla and Charybdis to utter scorn…"1
John I. H. Baur, who pioneered in uncovering Quidor's talent, revised his dating of the painting based on stylistic grounds:
"This movement away from bright color and toward an almost monochromatic rendering in warm browns is apparent throughout Quidor's last period. The dull reds and greens, already sparingly used in the paintings of 1855 and 1856, disappear almost entirely while the calligraphic outlining of forms becomes more pronounced. A newly discovered work of 1861,  The Embarkation from Communipaw, combines luminous thin glazes with an exuberant line, which delights in tracing the romantic profusion of vines and branches at the same time that it mockingly describes the crude ship and the ungainly gestures of the members of the expedition. As in Peter Stuyvesant Watching Festivities on the Battery (collection of Mr. Edward W. Harden), a multitude of small figures vignettes in the framework of foliage, emphasizing the contrast between the luxuriance of nature and the awkwardness of man. Another sprightly painting of the same expedition, at the moment that it was threatened by shipwreck in the 'terrors and frightful perils' of Hell Gate, should probably also be ascribed to the year 1861 because of its close similarity to the embarkation scene. While Voyage To Hell Gate from Communipaw is dated, the last two figures are illegible, and the author had previously assigned it to 1866."2
The sources of Quidor's art are still in doubt. Baur has tended to minimize the influence of "foreign models."3 Samuel M. Green sees in Voyage To Hell Gate multiple Influences "…from Dutch and Flemish genre painting, though the English caricature tradition from Hogarth to Thomas Rowlandson and George Cruickshank may also have played a part."4
Washington Irving, Diedrich Knickerbocker's a History of New York.
John I.H. Baur, John Quidor, catalogue, Munson-Williams-Proctor Institute, New York, 1965, p. 64.
Ibid, p.6.
Samuel M. Green, American Art, Ronald Press Co., New York, 1966, p. 269.