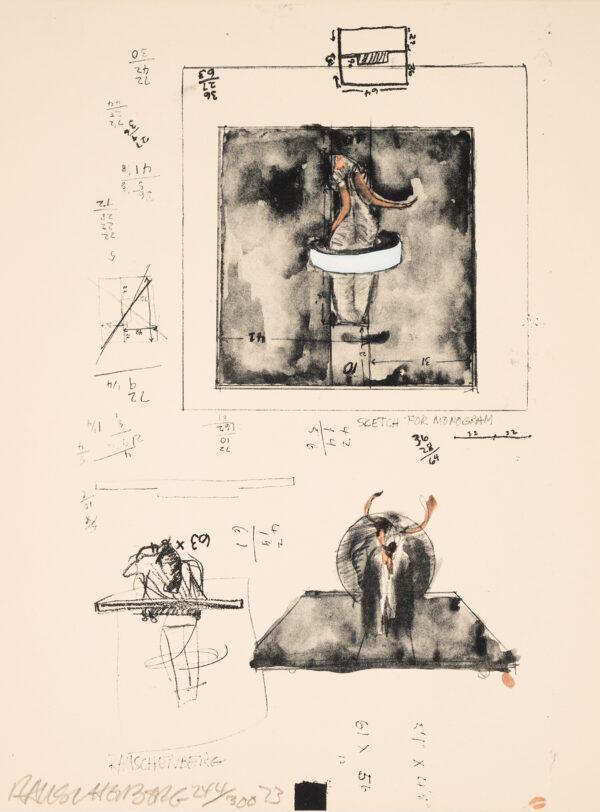 Untitled
Rauschenberg, Robert
1973
---
Artwork Information
Wichita Art Museum, Gift of Robert Rauschenberg
---
About the Artwork
In 1976 Robert Rauschenberg donated a copy of the New York Collection for Stockholm to the Wichita Art Museum. Rauschenberg was one of the featured artists in the portfolio of prints. He purchased several portfolios from the project and donated them to museums around the country. These donations were intended to make it possible for the widest public to see the range and type of work done by prominent American artists of the 1960s featured in the portfolio.
The New York Collection for Stockholm portfolio consists of 30 prints by 30 different artists active during the 1960s in New York City. The portfolio was commissioned and published by Experiments in Art and Technology, a nonprofit foundation Rauschenberg co-founded to encourage collaborative projects by artists and scientists. The purpose of the portfolio was to raise funds for paintings and sculpture by these same artists to be purchased for the Moderna Museet in Stockholm, Sweden.
The portfolio was executed at Styria Studio in New York, by craftsmen who hand printed the artists' various types of prints (from lithographs to silkscreen) and designs on 100% rag paper in a limited edition of 300 that was then signed and numbered by the artists.
Rauschenberg's print in the portfolio shows his interest in a variety of print making techniques and technologies. In this Untitled print he created an image that looks much like a plan or a diagram for a large work. The image uses a mix of colors and density of washes as well as lines and text in Rauschenberg's hand.