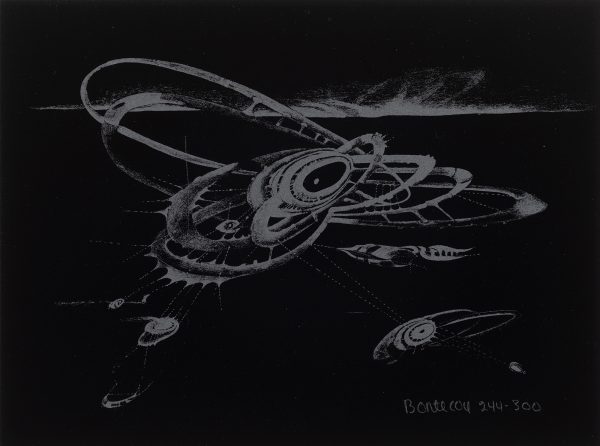 Untitled
Bontecou, Lee
1973
---
Artwork Information
Wichita Art Museum, Gift of Robert Rauschenberg
---
About the Artwork
The New York Collection for Stockholm portfolio consists of 30 prints by 30 different artists active in the decade of the 1960s in New York City. The portfolio was commissioned and published by Experiments in Art and Technology, Inc., to raise fund for the purchase of paintings and sculptures by these same artists for the Moderna Museet in Stockholm, Sweden.
K.G.P. Hultén selected the Stockholm collection and Billy Klüver directed the project. The portfolio was executed at Styria Studio, Inc., New York. Craftsmen hand printed the artists' designs on 100% rag paper from lithographic stones, plates and silkscreens in an edition of 300, signed and numbered by the artists.
One of the artists featured, Robert Rauschenberg, purchased a number of the portfolios and donated them to various museums around the nation, including the Wichita Art Museum. Rauschenberg's intent was to make it possible for the widest possible public to see a broad spectrum of the work of leading American artists during the decade of the 1960s.