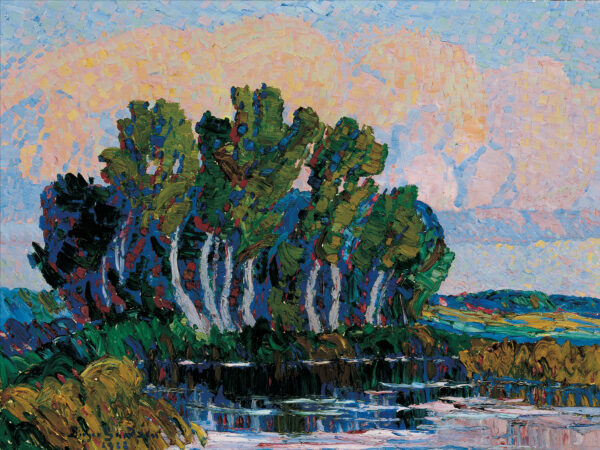 Twilight: Cottonwood Grove and Pond
Sandzen, Birger
1922
---
Artwork Information
Twilight: Cottonwood Grove and Pond

American (born in Sweden) 1871–1954

Wichita Art Museum, Gift of the Estate of Dr. and Mrs. Ernest Seydell
---
About the Artwork
Birger Sandzén, a Swedish painter well versed in impressionism and the post-impressionist movements, arrived in the Swedish immigrant community of Lindsborg, Kansas, in 1894 to take up a teaching position at Bethany College. From this outpost on the Great Plains he inspired a broad and abiding interest in the visual arts and in music, taught not only at Bethany but in schools throughout the mountain plains region where he provided many aspiring artists with their first introduction to professional instruction and an expressionistic approach to landscape. He became a founding member of the Prairie Print Makers in 1932, executed numerous public murals during the WPA era, exhibited and won awards in national competitions, and rose to the status of old master in Kansas art circles. In recent years Sandzén's oeuvre has claimed ever more visibility in national journals and sales as well as a historic place in the development of regional art.[1]
The hot lush color palette and the richly textured paint surface that Birger Sandzén used to depict the early evening light over a farm pond in Kansas' Smokey Hills region conjure unexpected associations with Van Gogh's Arles or Gauguin's Tahiti. Impasto touches of pastel pinks, light blues, mint greens and lavender coalesce in horizontal layers and balloon-like clouds above the dark shimmering palette of blood red, magenta, hunter green, cerulean blue and olive greens used to describe tree foliage and grasses. Sandzén used the textural footprint of the paint strokes to symbolize the material character of each substance being described—widely spaced cubic touches in the sky, long vertical strokes for the cottonwoods, horizontal rows of sweeping curves in the grasses, and smeared slashing streaks of mixed dark and light hues in the water reflections. Like the European impressionists and post-impressionists from whom he learned his art, this Swede transplanted to the American Midwest orchestrated contrasts of hue, tone, and paint texture to achieve the maximum in optical and emotional exhilaration.
The large canvas of Twilight: Cottonwood Grove and Pond is a stunning representative of the signal imagery and style of Birger Sandzén at the height of his powers. It was painted in the artist's banner year, 1922, when the American-Scandinavian Foundation sponsored a solo exhibition of Sandzén's work in the Babcock Galleries in New York. Press reviews were enthusiastic; the Christian Science Monitor ranked him with John Marin, who was also showing in New York at the time, as a penetrating interpreter of the inner essence of the American landscape. Sandzén's expressionistic celebration of the brilliant sunlight, exotic coloration, and spacious expanses of the mountains, deserts, and plains of Kansas, Colorado, New Mexico, and Utah would undoubtedly have claimed more than regional recognition in his own lifetime had he chosen to move from rural Kansas to the east coast.

————————-
[1] William H. Gerdts, Art Across America, Two Centuries of Regional Painting (Abbeville Press, Publishers: New York, 1990), Vol. III, pp. 70-71.