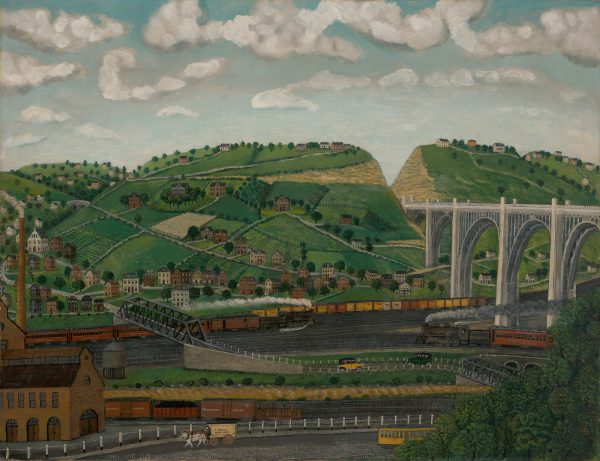 Close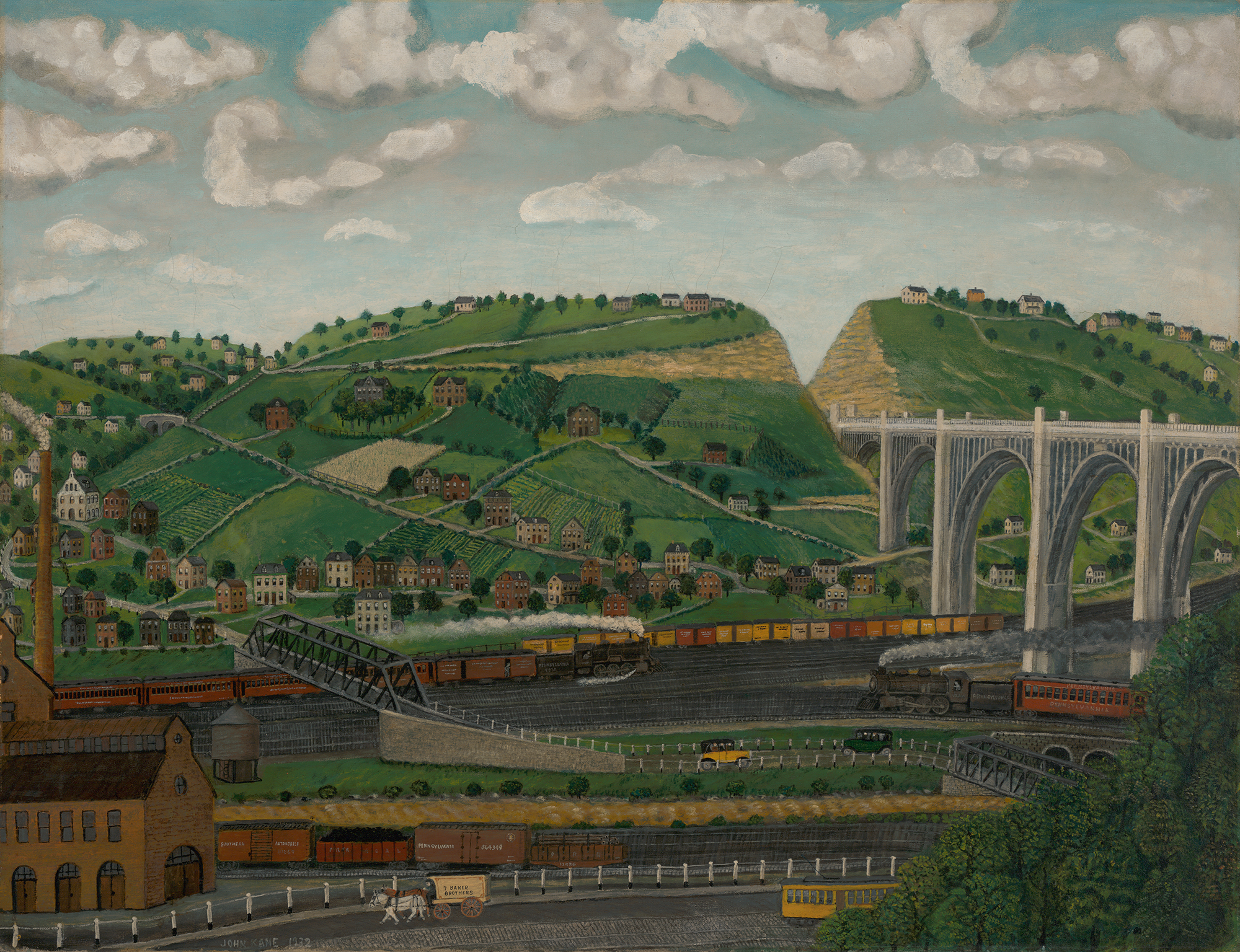 Turtle Creek Valley, No. 2
Kane, John
1932
---
Artwork Information
Turtle Creek Valley, No. 2

Wichita Art Museum, Roland P. Murdock Collection
---
About the Artwork
John Kane exhibited his first painting at the Carnegie International Exhibition of 1927, at the age of sixty-seven. From that time until his death in 1934, he gained increasing acclaim as one of America's great self-taught artists. Prior to this late recognition, however, Kane had made his living as a laborer, from the age of nine when he began working in a Scottish shale mine to the age of sixty-nine, when he held his last job as a house painter in Pittsburgh. Kane was pleased that he was able to commit himself fully to his art during his final years, but he never lost his working-class perspective. "I have lived too long the life of the poor," he once said, "to attach undue importance to the honors of the art world."1
Born in West Calder, Scotland, Kane immi­grated to Pennsylvania at the age of eighteen. He moved from town to town throughout Pennsylvania, Ohio, and the South; he worked in coal mines, in steel mills, on railroads, and in many other jobs, staying in each place as long as there was work to be found. He was married in 1897, but separated from his wife in 1904, shortly after his only son died in infancy. Kane saw little of his family for the next twenty-five years. It was during this long period of separation that he began to paint seriously. Kane was in his forties when he made his first painting, after learning to mix colors while painting freight cars in Pittsburgh. Soon he was devoting all his free hours to his art.
During his last years, as his fame was growing, Kane often painted the industrial landscape of East Pittsburgh, the subject of Turtle Creek Valley, No. 2. Since Kane had never attended art school, he never learned to apply the rules of linear perspective to his landscapes. Instead, the artist pieced together Turtle Creek Valley, No. 2 as one might build a house, carefully balancing each element of the painting within a unifying architectural structure. A web-like network of roads and railroad tracks becomes a framework that unites foreground and background. The movement that takes place upon this framework maintains the overall balance: the train on the left has its complement in the train on the right, which travels in the opposite direction; and this pattern is repeated with the two cars and with the trolley and horse-drawn cart.
But before Kane began painting the landscape of East Pittsburgh with his brush, he had spent a lifetime building it with his hands. He built roads and bridges and worked in factories like those pic­tured in Turtle Creek Valley, No. 2; and the first time he painted a train, it was with a gallon-bucket of paint and a six-inch brush. The roads, trains, bridges, and factories that were so much a part of Kane's life naturally found their way into his art. "Why shouldn't I want to set them down," he once said, "when they are, to some extent, children of my labors."2
1. Sky Hooks, The Autobiography of John Kane (Philadelphia: J.B. Lippincott Company, 1938), 154.
2. Ibid., 181.