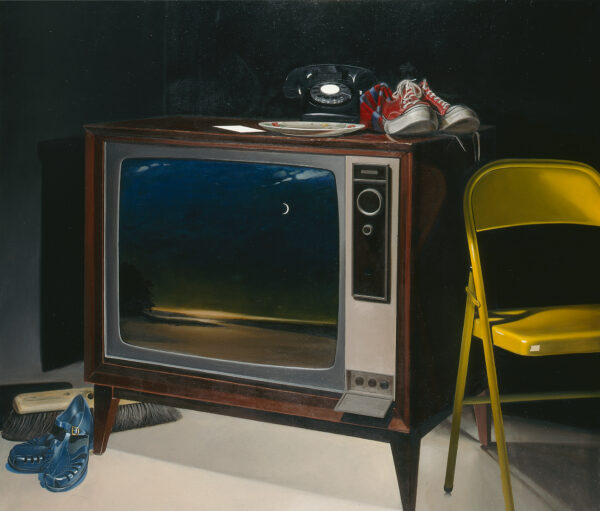 Close
Television Moon
Leslie, Alfred
1978–79
---
Artwork Information
Wichita Art Museum, Museum purchase, Virginia and George Ablah Fund
---
About the Artwork
The American realist Alfred Leslie executed this still life painting titled Television Moon in 1978-79. Quite appropriately the central feature of the composition is a life-size color TV set from the screen of which is pro­jected a tranquilly soothing image of a crescent moon shining high above a serene tropical sandy seashore. Casually arranged around the TV set is a clutter of everyday objects often found in the typical American home and including a telephone, a large flat china serv­ing dish, tennis shoes, a folding metal chair, a pair of leather sandals and a wide floor brush without its han­dle. Realistic impact is heightened by the masterfully handled textural differences and the trompe l'oeil treat­ment of occasional imperfections such as the chips in the rim of the plate, the scars along the upper edge of the TV cabinet and the bit of masking tape stuck to the end of the metal chair seat.
This is a thought-provoking statement and one, which penetrates to the very heart of the dominant focus of the American lifestyle: the unswerving reverence for the mechanized experience furnished by TV. Indeed the TV set is endowed here with a powerfully commanding per­sonality of its own, first by virtue of the massive scale of the composition and the enormous space occupied by the TV set in that composition, and second because the fortuitous grouping of secondary objects completes a convincingly authentic setting without detracting or claiming prolonged independent attention.
But perhaps the principal "new realist" aspect of this painting is the fact that although no human forms are present and that emphasis is placed upon contemporary banality, the intensity of the statement furnishes us a kind of reassuring confirmation of the reality of human existence in an era marked by fear, uncertainty and doubt about the meaning of our own existence.
Alfred Leslie was born in New York City in 1927 and studied at New York University and at the Art Students League. Although he worked as an abstractionist at the beginning of his career, he turned to realism quite early and at a time when most other American painters were still working in an abstract expressionist idiom. Today he is regarded as one of America's most successful members of the new realist school and has held solo exhibitions in such centers as the Hirshhorn Museum and the Boston Museum of Fine Arts. His works are in major collec­tions throughout the United States. Currently, Leslie resides in New York City.