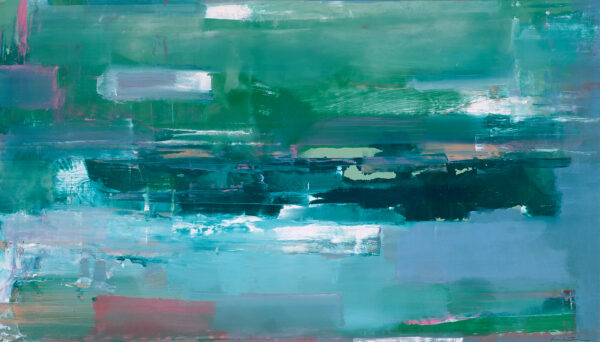 Sunday Green
Frankenthaler, Helen
1976
---
Artwork Information
Wichita Art Museum, Gift of MISCO Industries, S.O. Beren and Allen Staub, Trustees
---
About the Artwork
This handsome work titled Sunday Green was painted in 1976 by the noted contemporary American artist Helen Frankenthaler. The composition consists of a masterfully subtle blending of blobs, streaks and patches of color, some strong and sharply vivid, others light and velvety soft. All interplay and overlap as if lyrically floating in an airy space filled with an all-pervasive and luminescent glow, which seems to lift from beneath the pigment itself. For Frankenthaler's tech­nique consists of painting certain areas of the canvas, staining others and leaving still others untouched. The result is that scattered parts of the white canvas background shine through, serving as the lighting agent, which permeates the entire composition.
It is especially noteworthy that the energetic tensions built-up throughout are carefully resolved, thereby im­parting both dynamic balance and a sense of structure to the composition, for the diverse forms clearly merge into one composite whole and at the same time maintain their distinct and individual identities. Indeed, this quali­ty is achieved with such skill and sophistication as to produce a purely abstract statement of unity derived from harmonious diversity — a statement at once both visually soothing and intellectually engaging.
Helen Frankenthaler was born in New York City in 1928. Rufino Tamayo and Hans Hofmann were among the illustrious masters under whom she studied. She has been the recipient of numerous coveted awards and has held many solo exhibitions in museums and galleries both in America and abroad, and her works are includ­ed in major museum collections throughout the world. In addition, she has received commissions for large paintings and tapestries for permanent installation in public places such as hospitals and banks.