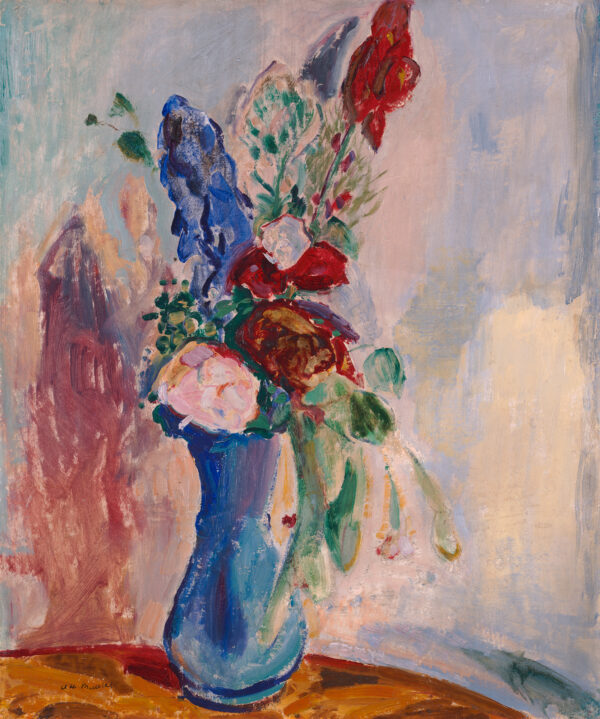 Close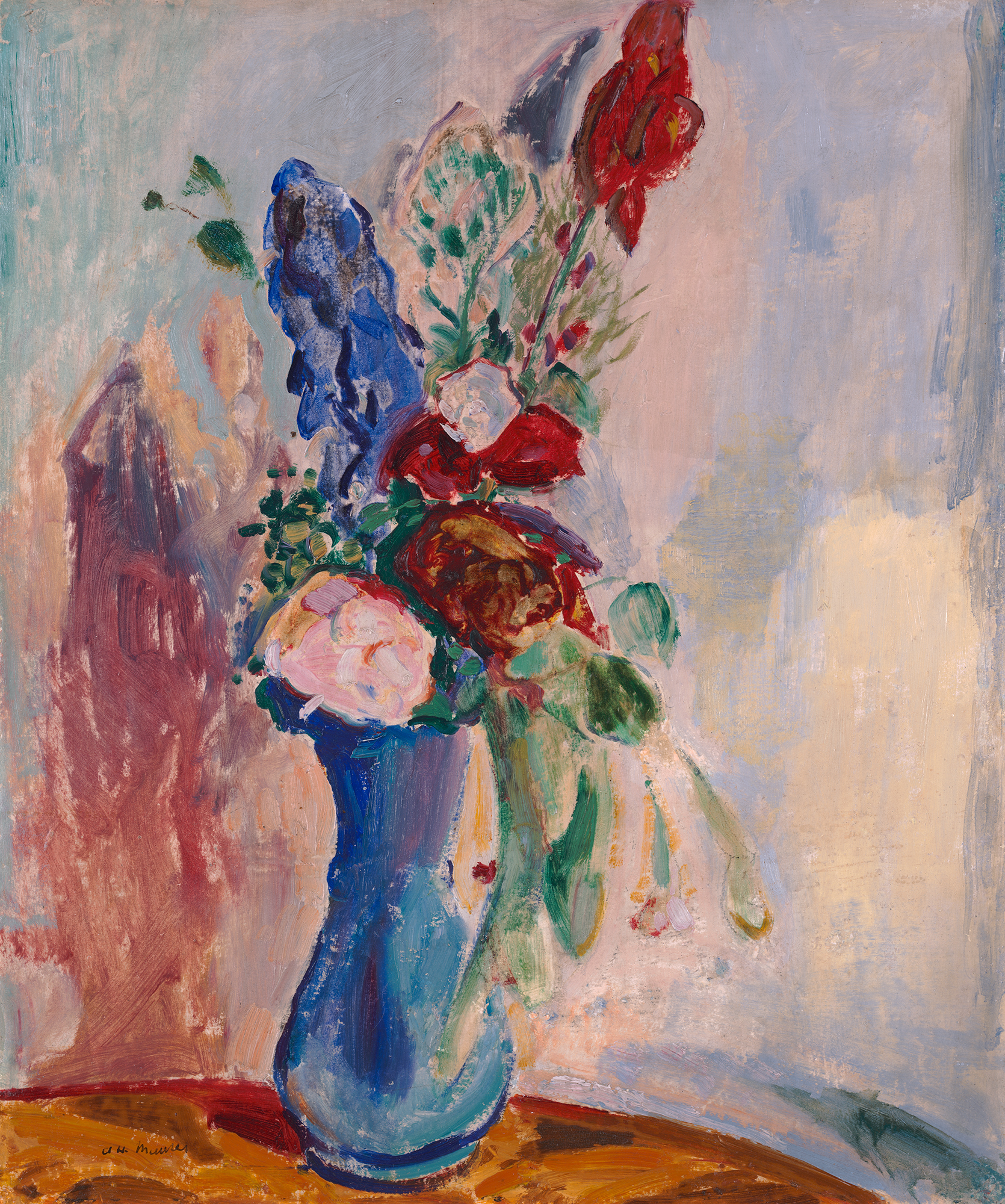 Still Life with Flowers
Maurer, Alfred Henry
about 1915
---
Artwork Information
Wichita Art Museum, Museum purchase, Friends of the Wichita Art Museum
---
About the Artwork
Alfred H. Maurer
American, 1868–1932
Still Life with Flowers, about 1915
Oil on board
Wichita Art Museum, Museum purchase, Friends of the Wichita Art Museum
1983.15
Alfred H. Maurer was indeed a true pioneer of con­temporary American painting. He was born in New York City in 1868, attended the National Academy of Design and worked briefly as a lithographer. In 1897 he went to Paris where he studied painting at the Academie Julian. Soon, however, he revolted against the conser­vative academic training and by 1905 he fell under the spell of the French avant-garde painters, and most especially Matisse and Cezanne. Maurer lived in France until 1914 when, because of the War, he returned to New York and resided in his parents' home for the re­mainder of his life. However, during his extended stay of 17 years in Paris his works had been included in ex­hibitions in France as well as in America, and in both 1909 and 1910 he showed prominently in Gallery "291", the noted Photo-Secession Gallery headed by Alfred Stieglitz in New York.
In this striking painting titled Still Life with Flowers, Maurer produced a work which clearly reflects the in­fluence both of Cezanne and, even more, of Matisse. Here, the subject matter consists of a vase of brightly colored flowers placed in the center of the composition. Yet in no sense is this merely a traditional floral paint­ing. For although Maurer has not abandoned recognizable form, his intent here was certainly to create a statement of color harmony and to furnish a sensation of vitality through the expressive use of a wide range of richly contrasting colors. Moreover, his sweeping brushstrokes charge the composition with a flamboyant quality, intensifying the liveliness of color choices. In addition, the flattened space which he uses here takes on the character of material reality by virtue of the light pastel colored patches applied throughout the surround­ing areas. Thus, his space as well as the forms contained in the space are in a very real sense constructed essentially of pure color. By the same token, the colorful shadows both in the lower right and along the left edge function clearly as independent compositional motifs and as a result would seem to have a material reality of their own.
All of these features are quite characteristic of the many major changes that had begun to appear soon after the turn of the century in French painting and which were particularly evident in the works of the group derisively known as the Fauves, or "wild beasts". It was through his contacts with these painters during his early years in Paris that Maurer came to absorb the conceptual tenets of the modern movement which he helped transmit to America. But although he exhibited frequently in America during his career, the public and the art critics remained hostile to his works. In addition, his aged father, Louis Maurer the noted painter and lithographer for Currier and Ives, became increasingly unsympathetic to Alfred Maurer's work. In 1932, his father died at the age of 100 years, three weeks later Alfred Maurer, apparently in ill health and in a deep depression, hanged himself in New York. Today he is recognized as perhaps the first American modernist and one of America's greatest 20th century painters.