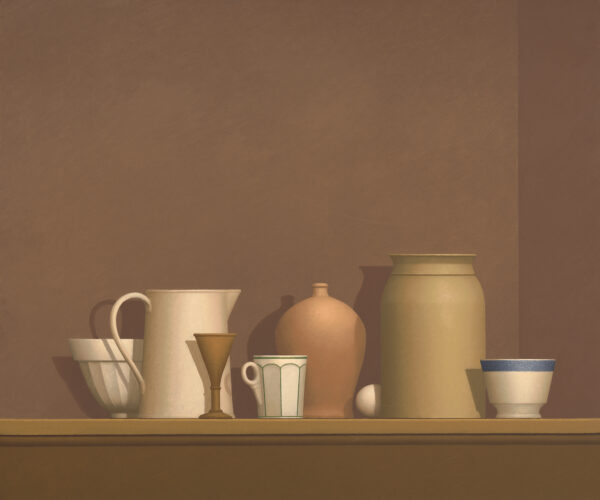 Still Life—Hotel Locarno
Bailey, William
1985
---
Artwork Information
Wichita Art Museum, Museum purchase, Friends of the Wichita Art Museum
---
About the Artwork
This work titled Still Life—Hotel Locarno was painted in 1985 by the contemporary American artist William Bailey. Here the subject matter, rendered with impeccable clarity, consists simply of eight objects: two bowls, a pitcher, a goblet, a cup, a crock, a bottle, and an egg. Differing shapes and sizes and marked varia­tions in muted color tones and textures add visual in­terest to the composition and emphasize the individuali­ty of each object represented. Yet all the objects are assembled in an intimate relationship with one another on a shallow shelf against a flat tan background. And all are linked in an unbroken chain, for each touches an adjacent object either by direct physical contact or by connecting shadows. The result is an expression of the unity of diversity within the total assemblage.
Exacting technique in handling forms and textures imparts an intensity of realism that deceives the eye into believing the objects depicted are actual realities stand­ing within a three-dimensional space. But Bailey should not be regarded as a traditional realist. For when we ex­plore the work thoroughly, it becomes evident that this painting like every work of art is clearly an abstraction. Indeed, the artist has reduced each form to its pure essence and his interest is focused more on orderly geometry and formal relationships of the parts than on actual imitation. And in the process of developing the composition, he has obviously allowed the play of light to vary in accord with his own interest rather than adhere to a strict observance of the operation of natural law as traditionally understood. In short, the composi­tion is a world in itself, possessing its own laws which vary considerably from those that govern our everyday world of experience. It is this characteristic which makes a work of art different from a moment of living reality.
But there is yet another aspect of this work that accounts for the attention that it commands. For an almost surreal mood haunts the composition, an eerie mood of loneliness and silence that is much intensified by the wide expanse of empty space and by the shadows cast upon the wall and upon the objects in the assemblage. At the same time however, the gripping stillness is countered by the unexpected presence of the egg placed as if peeking from behind the crock near the right but charging the otherwise inert composition with a sense of potential life. For just as all the elements shown are open vessels for drinking, eating or storing food, so the egg — certainly one of the most geometrically pure forms in nature — is a closed vessel. Symbolically it is the vessel of conception, of the ger­mination of life and of immortality.
William Bailey was born in Council Bluffs, Iowa in 1930. During his youth he lived in various cities and towns including Chicago, Kansas City and once for a brief period during the early '50s in Wichita. For several years he attended the University of Kansas in Lawrence and subsequently served with the United States Army in Japan. Under Joseph Albers, Bailey studied painting at Yale University where he received his undergraduate degree and in 1957 his MFA. From 1962-69, he was pro­fessor of Fine Arts at Indiana University in Bloomington. Thereafter he returned to Yale where he was ap­pointed professor of painting.