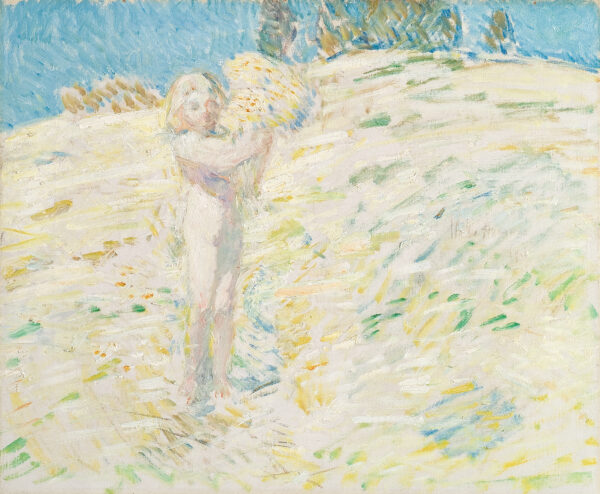 Close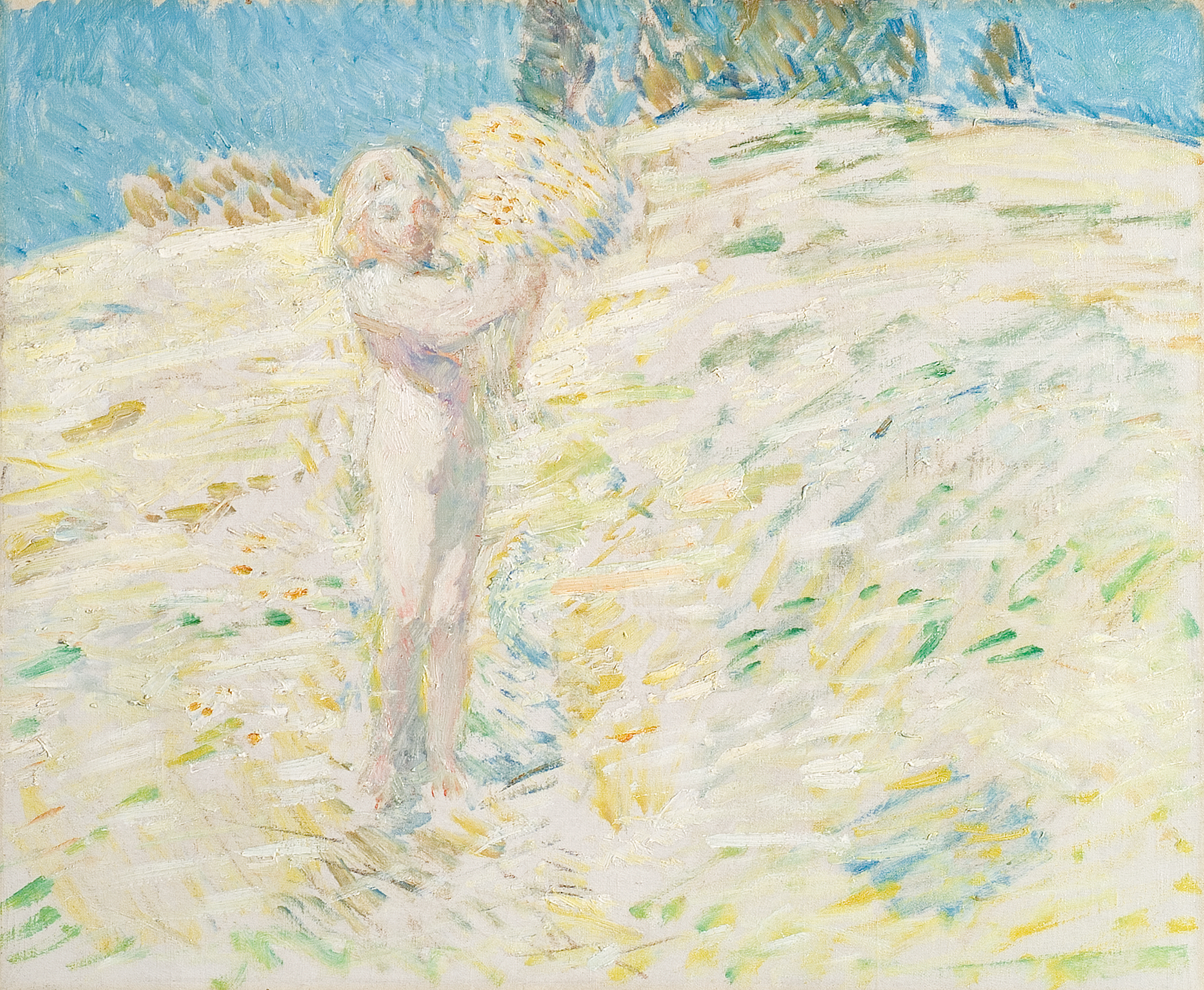 Spirit of the Harvest
Hassam, Childe
1921
---
Artwork Information
Wichita Art Museum, Museum purchase with funds donated by the Volunteers of the Sales/Rental Gallery, Friends of the Wichita Art Museum
---
About the Artwork
Childe Hassam was one of the most prominent painters among America's impressionists. He spent three years from 1886 to 1889 in Paris where he gained both knowledge and inspiration from the French Im­pressionist painters, although the style, which he developed bears only superficial resemblance to theirs. In 1898 he joined with other American painters in­cluding J. Alden Weir and John Twachtman to form the well-known impressionist group known as "The Ten".
Hassam painted actively throughout a long career. One of his comparatively late works, executed in 1921, is titled The Spirit of (he Harvest. Here long strokes of cool colors, primarily blue, green, light yellow and white, appear to be painted rapidly and spontaneously across the surface of the canvas. Yet actually these strokes are so organized as to create space, form and at­mosphere in terms of color rather than of linear defini­tion and conventional modeling. The result creates the impression of a dazzling sunlit field ripe for harvest. Slightly to the left of center stands a nude nymph-like figure holding up a bundle of freshly threshed grain. But while space consists only of a pattern of pure colors, the nymph figure is defined by sharply drawn contour lines and is modeled in soft pink body tones applied in short dashes of color. Indeed, the nymph actually seems to emerge out of the surrounding space and maintains its own distinctness and individuality by virtue of its outline and modeling, in contrast with the more vibrant surrounding space and background.
It is interesting that Hassam would have introduced a nymph in this composition. He employed such motifs in many of his works during the late teens and throughout the 1920s and was sometimes criticized for so doing. Yet the significance of such mythologically derived imagery is perhaps too often ignored. For here the nymph, distinct from and at the same time an inseparable part of the natural surround, would seem to clearly represent the secret soul of the harvest, the generative force of nature given visible form as the victory of continuous rebirth and renewal in the life cycle. Symbolically, the suggestion is one deeply rooted in human thought and, moreover, is certainly one that has found expression in much American painting throughout the 19th and 20th centuries, a fact which places Hassam squarely within the American tradition, even though his formal tech­nique generally reflected the continuing influence of French impressionism.
Beginning in 1919, Hassam spent summers in East Hampton, Long Island, where this work no doubt was painted. In 1935 he died in East Hampton.