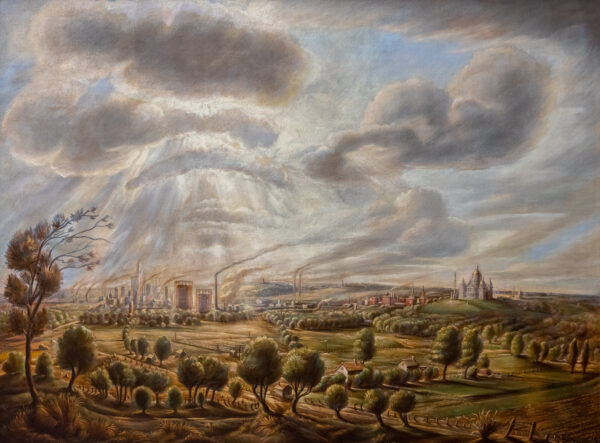 Southeast Bottoms, Des Moines
Palmer, William C.
1932
---
Artwork Information
Southeast Bottoms, Des Moines

Wichita Art Museum, Gift of the artist
---
About the Artwork
Although Palmer studied in New York City and Europe, he returned to Iowa often and painted numerous images of the regional landscape. Growing up in Des Moines, he had frequently enjoyed visits to the State Capitol and its surroundings. As he recalled fondly, "Climbing up to the very top of the Capitol on a shakey [sic] cat walk to look out over the city and surrounding plains was thrill beyound [sic] discription [sic] and probably developed in me my feeling for space and distance."1
The painting Southeast Bottoms, Des Moines manifests Palmer's lingering affection for the Capitol building as well as his "feeling for space and distance."1 The picture presents a long view over the fertile fields of Des Moines, with the State Capitol perched on a hilltop at the right, and a group of industrial buildings at the left.
The image expresses Palmer's dismay at the deleterious effects of industrialization on Des Moines and its environs. The dignified State-House and fertile farmlands seem threatened by encroaching industrial development. A large facto­ry complex belches thick gray smoke from a multi­tude of smokestacks. In the extreme left corner, a dying tree stretches its scrawny branches along the line of smoke. Above, turbulent clouds push the smoke towards the Capitol.
Palmer explained the impetus for this paint­ing: "In the summer when I would return to Des Moines to visit my family, I was disturbed by the lack of respect for the Capitol setting. . .  "2 He therefore painted Southeast Bottoms, Des Moines as a "protest of neglect" and a call to action.
1. William C. Palmer, letter to Howard Wooden, 12 June 1985, registrar's files, Wichita Art Museum.
2. Ibid.