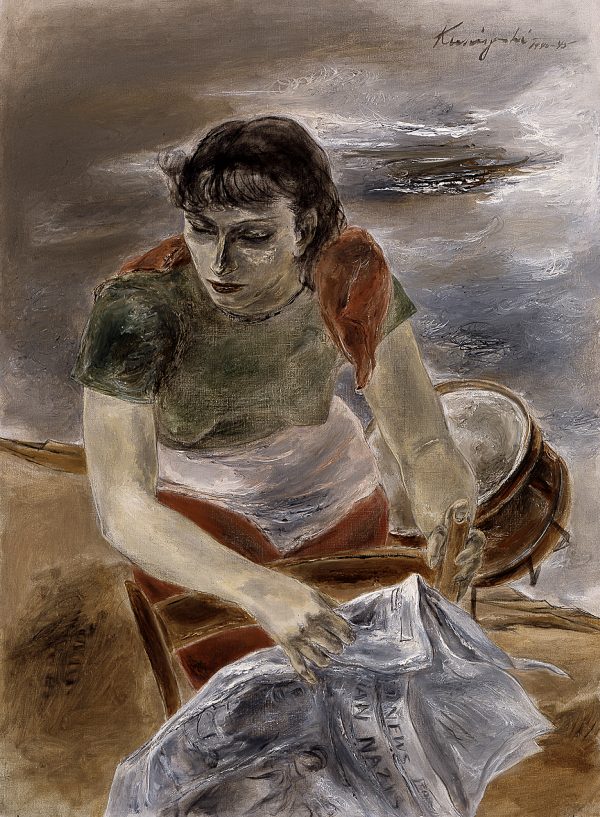 Season Ended
Kuniyoshi, Yasuo
1940–45
---
Artwork Information
American (born in Japan), 1889–1953

Wichita Art Museum, Roland P. Murdock Collection
---
About the Artwork
Yasuo Kuniyoshi was a slender man of delicate physical grace and sartorial neatness who loved women and was attractive to women. Arriving in the United States in 1906 from his native Japan at age seventeen, with no money and no idea of what he would do in America, he eventually made his way to New York City and to a career as a painter/photographer. Kuniyoshi's imagery evolved from the invention of consciously childlike folk symbols in the 1920s to a preoccupation with the studio subjects of female model and still life in the 1930s and 40s, and turned in the late 1940s, early 1950s to a surrealist symbolization of post World War II/ Cold War despair in brilliantly colored canvases and dark meditative Sumi ink drawings.
Season Ended reflects eloquently upon the imaginative world of the artist's middle years when Kuniyoshi often depicted a solitary woman sitting or standing in an attitude of introspective languor. In each of these images setting and accompanying props are minimal so that the woman's expressive contours, body gesture, and facial expression consume the pictorial and psychic space. The woman may hold a cigarette, or clutch a musical instrument, or, as is the case in Season Ended, allow a crumpled newspaper to slip from her hands. In his portrayal of this universal yet intimate feminine persona Kuniyoshi always balanced the openness of sexual vulnerability against the private strength of immense and complex feeling. Clad in body hugging tights that reveal the ripe curves of her nippled breasts the circus performer in Season Ended averts her gaze from the viewer so that the elegant curves of the her dark eyelashes, as well as her thoughts, remain deeply shadowed. Her background setting of a lower brown color zone and an upper gray color zone offers a purely painterly exposition of the figurative theme that opposes vacancy and richness: an absence of objects contrasts with complex nuances of tone and texture in layers of transparent glazing and tight gestural swirls of impasto.
Scholars assert that the image of the solitary woman served Kuniyoshi as metaphor for both personal and global malaise during the decades of world depression and war. The artist first awakened to the expressive possibilities of the female figure during a fateful trip to Paris in 1928. During that nine-month stay Kuniyoshi joyfully absorbed the esprit of a culture openly appreciative of all things feminine and attended carefully to the dominance of the image of woman in the art of Manet, Degas, Lautrec, Matisse, and Jules Pascin. The latter was a close friend as well as a notorious roué and painter of women in voluptuous dishabille. Kuniyoshi adapted the element of sexual consciousness so evident in Pascin to his own more brooding sensibility. Kuniyoshi, however, moved beyond the amplification of the model's sensory presence to a poetic intensity of sensation.