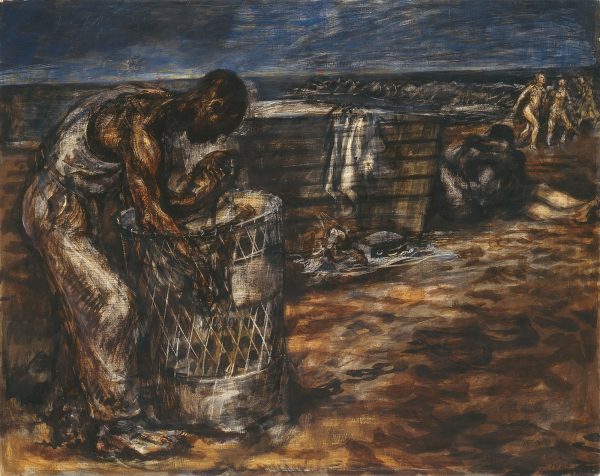 Sandwiches
Marsh, Reginald
1938
---
Artwork Information
Egg tempera and casein on Masonite

Wichita Art Museum, Roland P. Murdock Collection
---
About the Artwork
A shabbily clothed man rummages through a trash can, a man and woman passionately embrace behind a wooden partition, and three semi-nude figures saunter out of the water. These self-contained vignettes, uneasily conjoined in the painting Sandwiches, attest to the ambiguities and inconsistencies of life that Reginald Marsh observed and constantly recorded in his art. In Sandwiches, Marsh distills the energy of urban liv­ing to its most basic elements and to the partici­pants' fundamental needs: food, sex and leisure.
Arranged along an emphatic diagonal from left to right, the three scenes recede through fore-, mid­dle- and background according to a spatially-rein­forced social hierarchy. The anecdotal title Sandwiches accentuates the dominant compositional feature—the socially and racially isolated figure of the black man, absorbed in his search for food. Marsh stated that "the subject was from an observa­tion made one night at sundown in midsummer 1938 on the Coney Island Beach." The artist later discussed the subject with his model Walter Broe, a formerly homeless person, who speculated that the black man was "probably scavenging the tin can for sandwiches."1 In addition to explaining the genesis of the title, this statement reveals the degree to which Marsh distanced himself from his observed subjects, and in this instance relied on another's experience to elucidate what he saw.
Indeed, the artist, born in Paris in 1898 and raised in affluent suburbs of New York and New Jersey, was of a higher class than those who figured so prominently in his work. After graduating from Yale University in 1920, Marsh moved to New York City, where he worked as a free-lance illustra­tor for newspapers and magazines ranging from Esquire to The New Masses. During this time, he began studying at the Art Students League (ASL) under John Sloan, George Luks and Kenneth Hayes Miller. After traveling to Paris in 1925-26, Marsh returned to take classes with Miller at the ASL, pursuing painting more seriously while con­tinuing to work in a broad range of media. From 1935 to 1954, Marsh himself taught at the ASL.
Marsh considered himself foremost a drafts­man, and his predilection for linear and transpar­ent mediums led him to start experimenting with egg tempera in 1929. Although traditionally regarded as a labor-intensive and opaque medium, tempera, unlike oil, dried quickly and could be easily thinned. Marsh exploited these qualities, giv­ing his work the impression of spontaneity while carefully building up the painting surface through the application of numerous layers of pigment.
In Sandwiches, the complexity of Marsh's experimental painting style matches that of his subject matter. Over a ground of white casein, Marsh loosely paints with a dark palette of browns, blues, and grays. In some areas the veils of color are rubbed or scratched away to indicate highlights. Heavy brown outlines emphasize the contours of the representational elements and intensify their shadows. The coarse rendering and gloomy mood of the painting create a psychological tension; the subjects seem suspended in an oppressive air that denies them a past or future. For Marsh, the detached observer, what merits description is only the present.
1. Reginald Marsh, letter to Elizabeth S. Navas, 12 September 1939, registrars files, Wichita Art Museum.