Close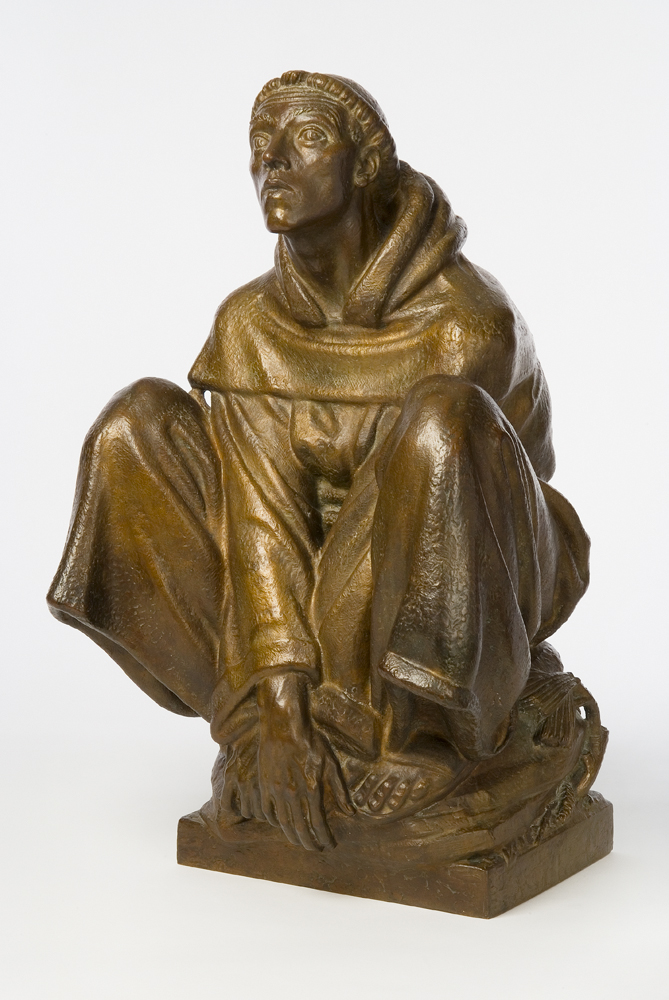 Saint Francis
Moore, Bruce
1936
---
Artwork Information
25 1/2 x 15 5/8 x 14 1/2 inches

Wichita Art Museum, Gift of Wichitans in memory of L.W. Clapp
---
About the Artwork
Bruce Moore initially gained prominence for expressive sculptural interpretations of animal subjects, a theme that was to preoccupy him throughout his career. Influenced by his teachers, sculptors Charles Grafly and Albert Laessle, and by close associates James Earle Fraser and Paul Manship, Moore developed a style that combined naturalism with individual feeling and a vivid sense of decorative form. Moore pursued his interest in animals, portraits and figurative compositions in a broad range of media including etching designs for the Stueben Glass Company, drawing and printmaking, architectural ornamentation, and monumental public sculpture, notably the National memorial of the Pacific, Columbia, in Honolulu, Hawaii.
The city of Wichita, Kansas, where Moore had grown up and where he is claimed as a native son, commissioned the young sculptor to execute a memorial tribute to civic leader L.W. Clapp (1858-1934). It is indicative of Moore's innovative spirit that he chose to honor Clapp not in a literal portrait but rather through symbolic reference to Clapp's public service as the creator of Wichita's park system, a legacy that remains today a model of modern landscape and architectural design. In his choice of the subject of St. Francis to honor Clapp, Moore logically sought associations with ideas of service and reverence for nature. The motif of St. Francis was already familiar to the public from its frequent usage in the flourishing production of garden sculpture. However, Moore's treatment of the image of St. Francis was as unconventional as his decision to allegorize Clapp.
Moore astonished both his fellow artists and his Wichita subscribers with a profoundly original interpretation of the saint's persona. Instead of the familiar standing figure of a gentle, bearded monk tending to birds, Moore presented a visionary St. Francis, a tender youth so possessed by ecstatic spiritual experience as he sits immobilized upon the ground in a trance-like state. The wide-staring eyes, slightly parted lips, raised eyebrows, wrinkled brow, and strained neck denote a man gripped by powerful psychic energy. At the same time the artist anchored the saint firmly within natural creation in such details as the rough texture of his robe, veined muscular hands next to a bare sandaled foot, pine branches, pine cones and a large bee around the base of the compact, low-to-the-earth body form.
Bruce Moore's St. Francis proved an appropriate inauguration of the Wichita Art Museum collection because it was a work by a nationally recognized talent; a composition of progressive innovative character suggesting faith in the contemporary generation; a work by an artist who had artistic roots in the local community; and the piece was a tribute to another major contributor to Wichita's cultural.