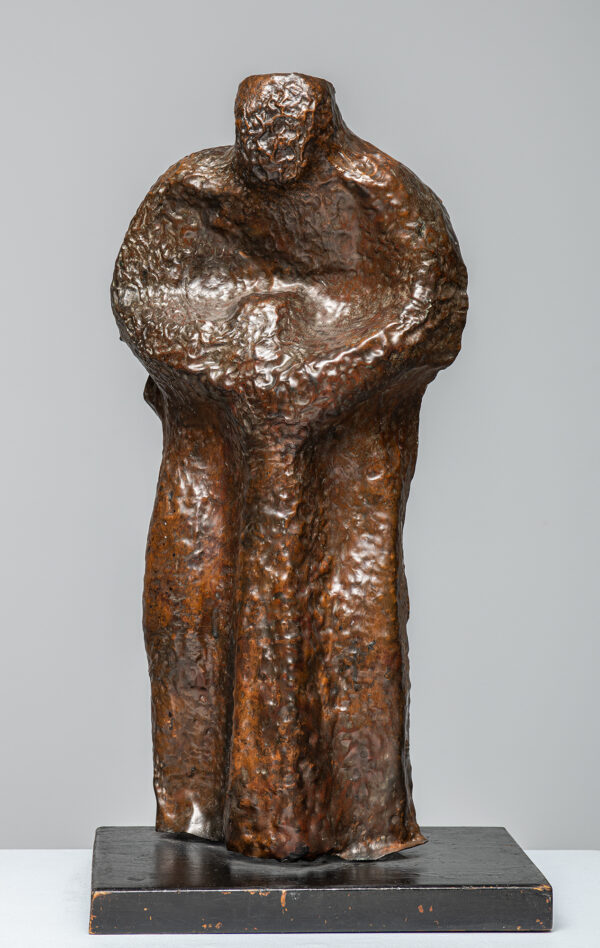 Road Builder
Baizerman, Saul
about 1931–39
---
Artwork Information
American (born in Russia), 1889–1957

Hammered copper with wood base

28 1/2 x 13 7/8 x 7 7/8 inches

Wichita Art Museum, Museum purchase, Friends of the Wichita Art Museum
---
About the Artwork
Until well after the close of World War II, sculpture played at most a secondary role in the development of American art. Indeed prior to World War II, most American sculpture functioned primarily as architec­tural decoration or as monumental statuary generally placed in city squares and public parks. Yet independent sculpture was not entirely absent from the art scene, and in retrospect many of the sculptors of the period deserve to be considered among the major artists of America.
One of the most interesting and innovative sculptors during the 1920s and 1930s was Saul Baizerman, an art­ist who developed new techniques and created forms quite unlike those in the world of prevailing statuary. In this work titled The Road Builder and executed by Baizerman in 1939, the theme chosen reflects the artist's more universal concern in celebrating labor and the dai­ly toils of the laboring man, a concern especially timely during the years of the Great Depression. What we see here is the depiction of a slightly stooped figure of a workman. The frontal treatment, the heavy proportions and the massive curves of the arms and shoulders, symmetrically arranged, impart a powerfully commanding presence. However, what is especially interesting is the technique employed in the production of this piece, for although the entire work is over two feet in height, it consists of but a single sheet of heavy copper hammered into the shape of the figure. Moreover, the hammering process has created a pebbled surface of tiny concave and convex shapes that produce a glittering effect under light, blurring the outline and surface and effecting a rather mystical aura across the figure. No effort is made to render either facial or body detail yet the image itself, although clumsy in overall appearance, is clearly recognizable and fully intelligible. Symbolically, the im­age suggests stability, determination, and physical strength and at the same time the weary and heavy burden shouldered by all workmen. And of course, it was that message which Baizerman sought to com­municate in this work as well as in most of his other sculptures.
Saul Baizerman was born in Vitebsk, Russia in 1889 but emigrated to the United States in 1910 when he was 21 years old and settled in New York City. He studied briefly at the National Academy of Design and made numerous visits to Europe where frequent exhibitions of his work were held. In 1933 he had his first United States exhibition in New York City, but it was not until 1949 that he began to win wide acclaim, receiving awards at the Pennsylvania Academy of Fine Arts and having major American museums seek his works. In 1957 he died in New York City.