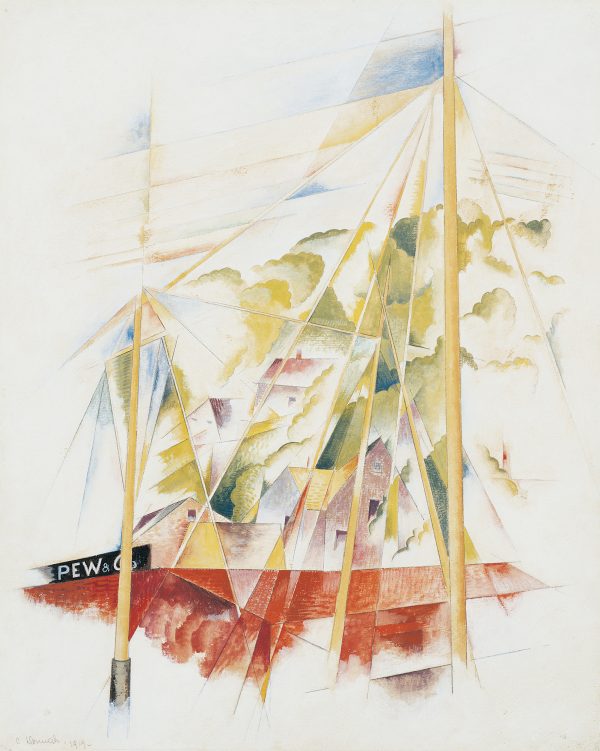 Rise of the Prism
Demuth, Charles
1919
---
Artwork Information
Watercolor, gouache, and graphite on paper

Wichita Art Museum, Roland P. Murdock Collection
---
About the Artwork
Charles Demuth, a dapper aristocratic man, the descendant of an old and prosperous Lancaster, Pennsylvania family, played a significant role in the foundation of American modernism. He participated in all the liveliest avant-garde intellectual and artistic circles of Paris and New York, contributing to the American remaking of European vanguard styles a personal timbre of insouciant wit and elegance. The Rise of the Prism is an exquisite transitional work that combines elements of Demuth's earlier organic formulations with the prismatic fragmentation of architectonic form that presaged the emergence of the precisionist style in his art and in American painting in the late 1920s.
During the summer of 1919, Demuth worked in the company of fellow modernist Marsden Hartley in the coastal resort town of Gloucester, Massachusetts.1 Hartley was then engaged in Constructivist-inspired stylistic experimentation, an example that no doubt encouraged Demuth to open a new direction in his own work. During this time, he focused on the subjects of sail boats, mast lines, and the buildings, particularly roof tops, and trees seen along the shoreline.
Rise of the Prism captures an aerial view of a piece of the Gloucester shore as if seen from a distance out in the harbor—a glimpse of the bright red roof of a commercial building, then behind that and climbing to the hilltop horizon, fragments of domestic roof tops interspersed with edges of tree tops and an industrial smokestack to the middle right. Despite the ephemeral character of the solid objects, a feeling of calm, stately progression permeates the composition. Passing before the shore, the tall masts seem to sway and straighten at a sedate pace, their vertical lines and crossbars radiating light beams that order the distant objects into faceted cubic planes.
A sensation of buoyancy fills the image. That sense of lightness and freedom derives not only from the deft array of neat little shapes on a large area of whiteness, but also from the equanimity of opposites—dark and light, primary colors and compliments, curves, and angles. Then into all this elegant harmony а la Cйzanne Demuth injected a note of pure American banality and streetwise cockiness, the commercial signage: PEW & Co.
Barbara Haskell, Charles Demuth, Whitney Museum of Art , New York, in association with Harry N. Abrahams, Inc., New York, 1988, p. 127. Although previous Wichita Art Museum commentary about this painting has stated that it was painted in Provincetown, Haskell's monogram explains that Demuth spent the summers of 1916, 1918 and 1920 in Provincetown, the summers of 1917 and 1919 in Gloucester working with Hartley—the time period during which Demuth inaugurated his new structural style.