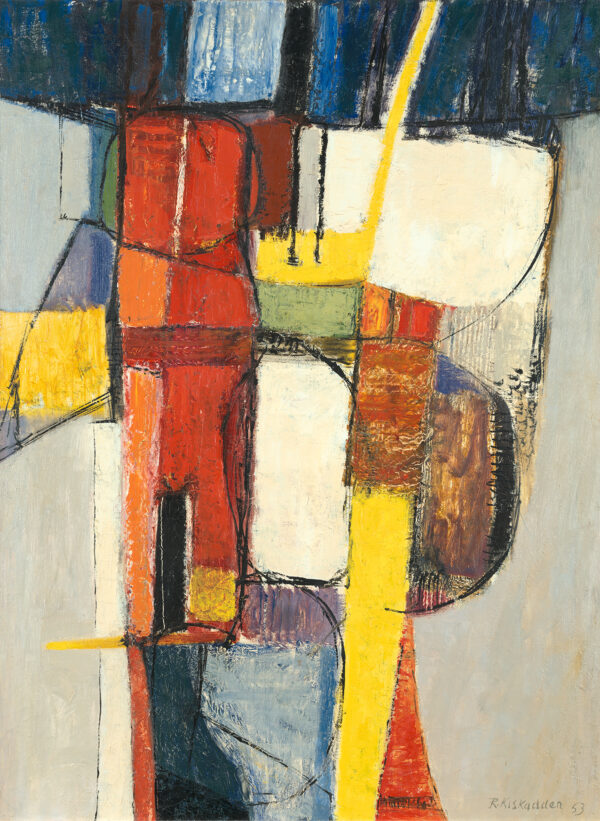 Painting 1953
Kiskadden, Robert M.
1953
---
Artwork Information
Wichita Art Museum, Museum purchase, First Air Capital Annual 1954 Purchase Award
---
About the Artwork
Robert Kiskadden came to work at Wichita University in 1949 expecting to fill a one- year vacancy on the art faculty. He stayed thirty-five years to participate in the growth of the Wichita State University (WSU) art program from a five-person faculty to a full-fledged department.
During these years Kiskadden taught drawing and painting, instituted night classes in these subjects and established the graduate program. He was the Chairman of the Department of Art, directed the completion of the Clayton Staples Gallery, and was appointed Assistant Dean, Division of Art until his retirement in 1984.
Kiskadden also contributed to the growth of civic art organizations. He was a board member and past president of the Wichita Artists Guild and a charter member of the Kansas Watercolor Society. During the 1950s when the Wichita Art Museum was directed by WSU's art department chairman, Eugene S. McFarland, Kiskadden and other WSU art faculty assumed curatorial duties at the Museum. They organized loan exhibitions, hung the shows, and made inventories of the collections.
Kiskadden studied with Clayton Staples at Wichita University from 1938–40. He received his BFA from the University of Kansas and his MFA from Ohio Wesleyan University in Delaware.