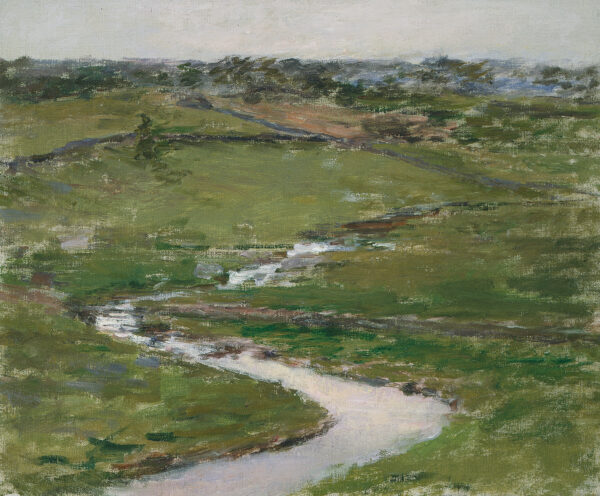 Close
On John H. Twachtman Property, Greenwich, Connecticut
Robinson, Theodore
about 1894
---
Artwork Information
On John H. Twachtman Property, Greenwich, Connecticut

Wichita Art Museum, John W. and Mildred L. Graves Collection
---
About the Artwork
Theodore Robinson (American, 1852-1896)
On John H. Twachtman Property, Greenwich, Connecticut, ca. 1894
Oil on canvas, 18 ј x 22 ј in.
Wichita Art Museum, The John W. and Mildred L. Graves Collection
1998.37
            Godfrey Twachtman, son of the painter John Twachtman, identified this painting as one, which Robinson had painted while visiting the Twachtman farm in the summer of 1893 or 1894. Theodore Robinson presented the landscape to his friend Twachtman as a gift. Godfrey later inherited the work from his mother's estate and sold the painting to a New York Gallery in 1973 where it was subsequently purchased by the Graves.
            The subject of the painting is Horseneck Brook seen from the back of the Twachtman house. The brook was a major motif in Twachtman's own work from 1888 when he bought the 17 acres of Greenwich farmland to his death in 1902. Twachtman painted the rocky cascades and hemlock-fringed pool of Horseneck Brook in all seasons. The Twachtman painting in the Murdock collection titled Falls in January is one of the artist's many seasonal studies of the small waterfall in "his brook."