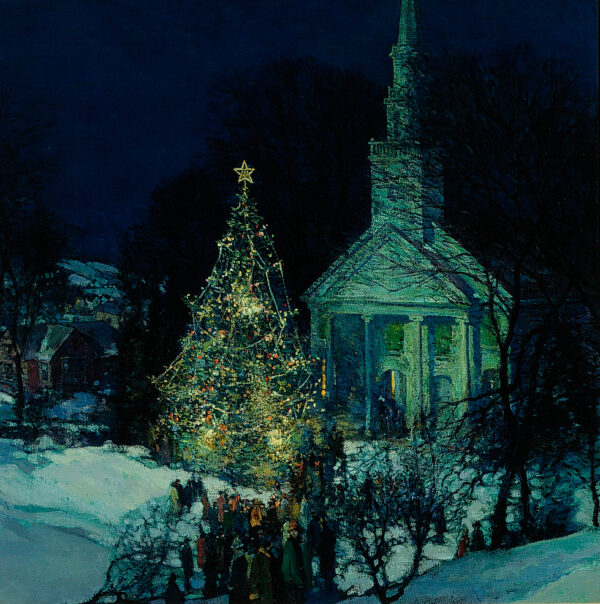 New England Christmas
Wiggins, Guy Carleton
1920
---
Artwork Information
Wichita Art Museum, Gift of Mr. and Mrs. Robert Carroll in memory of his mother, Mrs. Benjamin Robert Carroll
---
About the Artwork
A joyous Christmas mood reverberates through the clear night atmosphere of a small New England town in this 1920 oil painting by the American Impressionist Guy Carleton Wiggins and fittingly titled New England Christmas. In the background, the tall slender steeple of a typical Federal style church reaches upward beyond the top edge of the canvas. And immediately before the church stands a brightly lighted Christmas tree, capped with the traditional star of Bethlehem. In the foreground, amidst the cluster of leafless bushes and trees, a small crowd has congregated, perhaps preparing to return home following a midnight service on Christmas Eve. House lights dot the snow-blanketed hills of the village seen in the sloping distance to the left.
A feature of special interest is the symbolic parallel established between the tree and the church. Together they constitute the axis around which the entire com­position is built, for both carry the eye upward toward the sky and both stand out brightly against the dark winter night, suggesting immortal life and the eternal victory of light over darkness. Moreover, the dignified proportions and delicately adapted classical forms of the church architecture are together echoed in the stability and stately balance of the tree and its refined strands of sparkling ornament. Indeed, by virtue of the close physical proximity of the tree to the church, we are suddenly made aware that the church building is essen­tially a geometric abstraction of the form of the tree itself. But, as is so typical of impressionist painting, the composition here is completely informal. And while each figure is readily discernible, detail is intentionally de-emphasized, for more important to the impressionist artist is his interest in surface tactility and his use of col­or and the creation of atmospheric effect.
Guy Carleton Wiggins was born in Brooklyn, New York, in 1883. He studied at the National Academy of Design and also with Robert Henri, and made several visits to Europe, especially to France. However, the in­fluence of the impressionist manner on his work came primarily from other American painters, particularly Childe Hassam, and the themes which most appealed to him were winter landscapes of New England and snow-covered street scenes in New York City. Wiggins spent much of his mature life in Old Lyme, Connecticut, located on the Connecticut River in a region which, because of the many American impressionists working there, is sometimes referred to as the Giverny of America. Indeed, the church depicted here is the Old Lyme Congregational Church built a century before this painting was executed. Wiggins was a member of the National Academy, the Salgamundi Club, the Lotus Club and other art organizations, and today his works are included in major museum collections throughout the country. He died in Old Lyme in 1962.