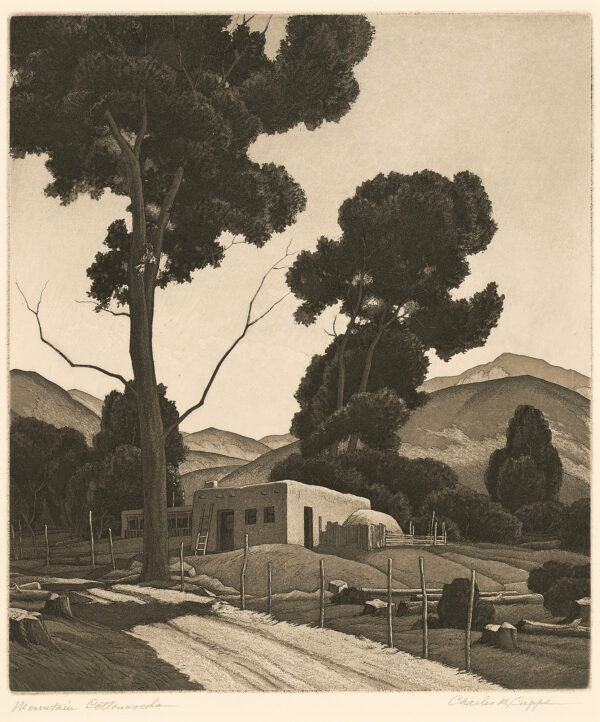 Mountain Cottonwoods
Capps, Charles M.
1956
---
Artwork Information
Wichita Art Museum, Bequest of Elizabeth T. Forter in memory of her father, Cecil Alfred Forter
---
About the Artwork
Charles Capps was a major figure in regional and national print circles from the 1930s through the 1960s. He was a charter member of the Prairie Print Makers Society, founded by ten Kansas artists in 1930, an organization that grew to national stature before its demise in 1965. He, like the majority of his fellow Prairie Print Makers, described and interpreted the character of ordinary American places in the tradition begun by such artists as Charles Burchfield and Edward Hopper. During the 1940s and '50s Capps regularly spent summers in Santa Fe and Taos, New Mexico where he compiled sketches, photographs, and journals that provided him later with source material for prints. Mountain Cottonwoods derives from a sketch made of a dwelling located outside Taos.
In Mountain Cottonwoods, the two cottonwood trees for which the print is named rise in majestic silhouettes against the clear New Mexico sky, one tree so tall that its foliage reaches beyond the framing edge of the picture image. The wonderfully eccentric, swift   linear contours of the foliage and the thin sharp lines of two slender branches etched against the sky prove an exciting foil to the slow, rounded curves of the hills and shrubs below.
The viewer imaginatively approaches the central subject from below, along a road that leads into the left foreground. From this vantage point he looks up to see a simple, square adobe farmhouse with a hay bin positioned against a wall on the sun side and some outbuildings located behind the main house in the shadows. Print maker Charles Capps typically employed this classic formula of a dramatic viewpoint, the reduction of details to a few large simple shapes, and the sharp contrast of dark shadows and bright highlights to instill ordinary architectural structures and landscape, whether it was northern New Mexico or south central Kansas, with a sense of grandeur and mystery.
However, even more striking than the composition, was Capps's virtuoso handling of aquatint. From about 1937, when he first began to work in etching, Capps concentrated upon mastery of the aquatint technique. By the early 1940s he had perfected his ability to put a subtle range of tones into play to create intimations of texture as well as gradations of light. In Mountain Cottonwoods Capps used tonal variations in the aquatint to depict the rough surface of the dirt road, alternating zones of rock and foliage on the distant mountains, and the delicate wispy edges of nearly invisible clouds gathered at the horizon line. Beyond descriptive details, Capps's nuanced layering of gray tones often created a psychological effect of moodiness even in a sunlit scene such as Mountain Cottonwoods.