Close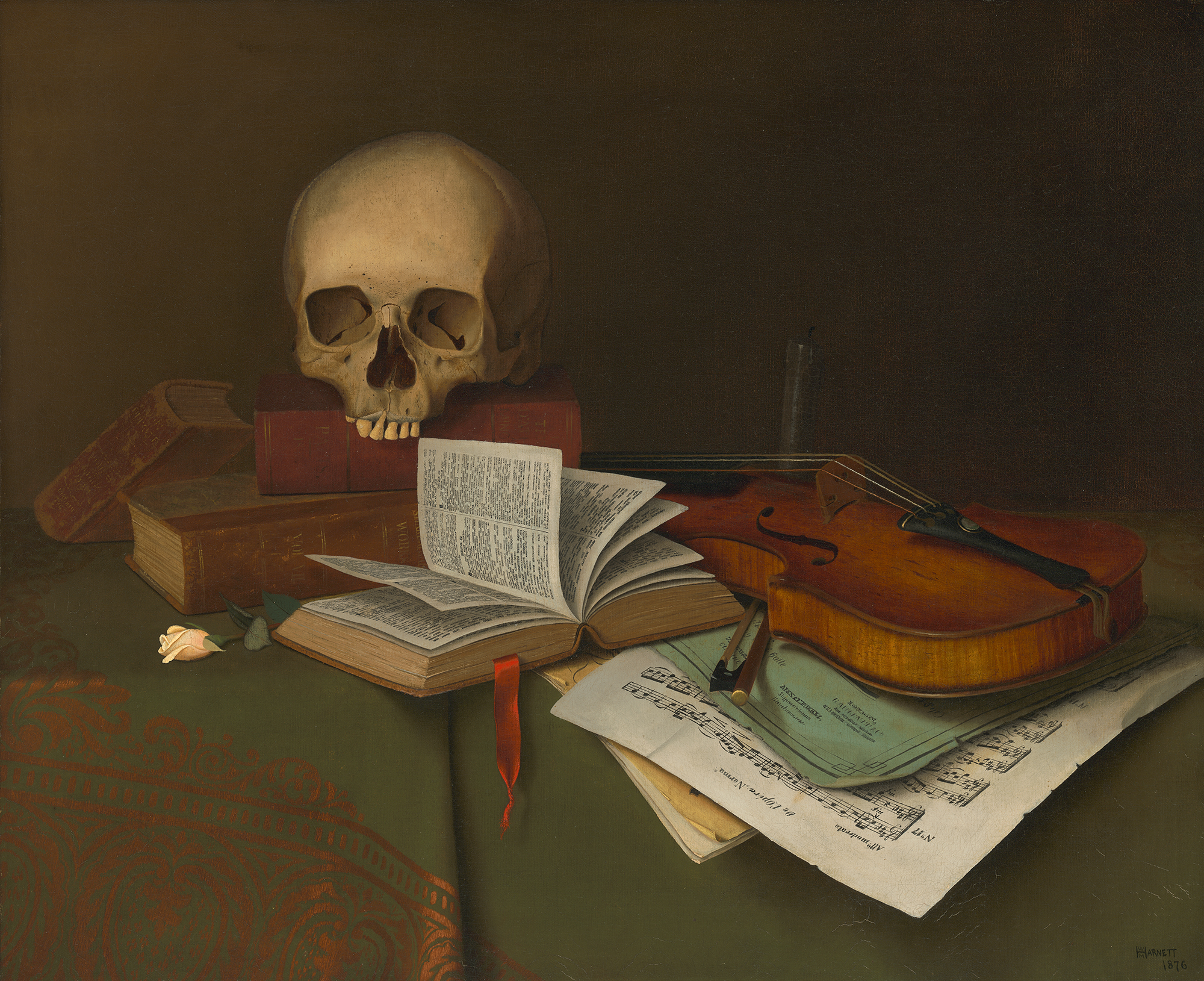 Mortality and Immortality
Harnett, William Michael
1876
---
Artwork Information
Mortality and Immortality

Wichita Art Museum, Roland P. Murdock Collection
---
About the Artwork
Mortality and Immortality is one of only two Harnett paintings known to exist for the year 1876. For his subject Harnett has fallen back upon the traditional theme of the memento mori—the still life with a skull as a reminder of death.
Alfred Frankenstein has observed that certain
"…stylistic characteristics of this painting show that at the time Harnett produces it he was not yet in full command of his powers. There is, for example, the curiously flat, primitive-looking rose; Harnett was never greatly interested in flowers, but none of his other professional productions contains so feeble a flower as this. The brass knob at the end of the bow jabs right through the picture plane with a 'built-up' blob of paint; so do the nearest corner of the open book and the twisted lower end of the red ribbon. This naive confusion between painting and relief sculpture, obviously the result of an effort at extreme realistic illusion, is to be found only in Harnett's pictures produced before 1880, when he went to Europe."1
Further, Frankenstein has pointed out the significance of this painting in understanding the development of Harnett's style. "Mortality and Immortality looks forward to Harnett's maturity in its concern with contrasts of texture—the polished, varnished wood of violin versus the leather and paper of the brooks and these played off against the brown ivory of the bone and the softness of the green cloth—although this tactile interest is not carried as far as it is to be carried later.
Typically Harnett, also is the emphasis upon old things—books with worn leather spines, frayed music, and so on—but these are deployed in an atmosphere of slightly cheap Victorian elegance that will, unfortunately, return in some of Harnett's last paintings. Likewise prophetic is the adaptation of an old Dutch compositional formula, which Harnett may have learned from J. F. Francis, a Pennsylvania still-life painter—the sheets of music falling over the edge of the table top to form a roughly triangular counterthrust to the generally pyramidal arrangement of the objects placed on the table itself."2
 Alfred Frankenstein, After the Hunt: William Harnet and Other American Still Life Painters,1879-1900, University of California Press, Berkeley and Los Angeles, 1953, pp. 39-40.
 Ibid., p. 40.