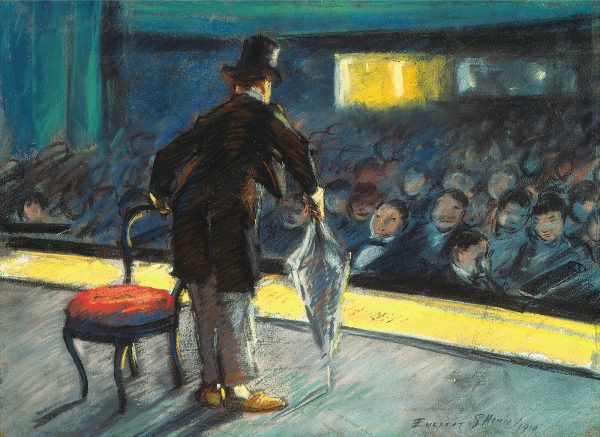 Close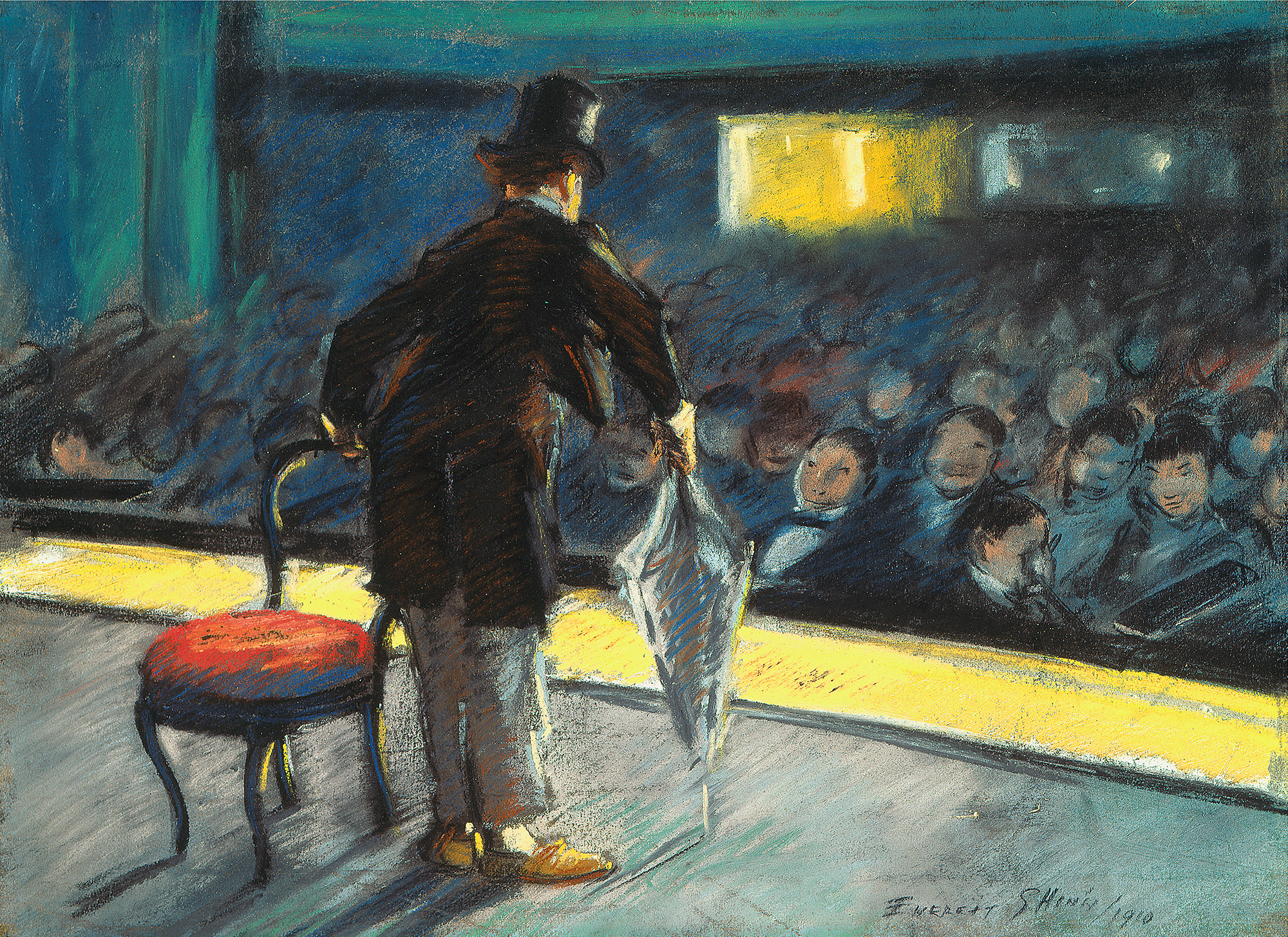 Monologist, The
Shinn, Everett
1910
---
Artwork Information
Pastel and gouache on paperboard

Wichita Art Museum, Roland P. Murdock Collection
---
About the Artwork
One of the founding members of The Eight, a group of artists who rebelled against the conservative artistic establish­ment in America during the early 20th century, Everett Shinn is best known for his depictions of theatrical subjects. Born in Woodstown, New Jersey, Shinn studied industrial design before deciding to become an artist. In Philadelphia from 1893 to 1897, Shinn met future members of The Eight: William Glackens, George Luks, John Sloan, and Robert Henri, while he studied at the Pennsylvania Academy of the Fine Arts and worked as an illustrator for the Philadelphia Press. In 1897 Shinn moved to New York, where his var­ied career would include working in pastel and oil, painting murals, decorating furniture, illustrating magazines, designing movie sets, and writing, per­forming and producing vaudeville shows. Shinn's interest in the stage dated to his student days in Philadelphia, where he performed plays in Henri's studio. In New York, Shinn built a small playhouse in his home that could accommodate an audience of fifty-five. There, Shinn wrote, directed, pro­duced, and designed sets for comic dramas.
Shinn's experience covering the modern scene as a newspaper and magazine illustrator taught him to regard the city as a worthy subject for his paint­ings and pastels. This interest in the crowded streets and such urban entertainments as the ballet and the theater is akin to that of the French Impressionists Edgar Degas and Jean-Louis Forain, whom Shinn and his circle of friends in Philadelphia had long admired for their lively illus­trations of contemporary Parisian life. A trip to Europe in 1900 provided him with first-hand knowledge of the works of these and other French Impressionists; sketches and studies from Paris and London supplied Shinn with a reserve of subjects he would continue to draw upon long after he had returned to New York.
The influence of Degas and Forain is suggest­ed in The Monologist's theatrical subject, surprising viewpoint, asymmetrical composition, and pastel medium, though the thick, juicy surface of Shinn's picture contrasts with the characteristic dustiness of pastel. Shinn's performer appears in comic cos­tume, with too-short pants that reveal his bare ankles, and casual, slipper-like shoes that clash with his more formal tails and top hat. He props him­self up with a chair in one hand and an umbrella in the other as he addresses the audience. A bold yellow band at the edge of the stage cleaves the canvas and separates the vaudeville entertainer from his audience and the piano player at lower right. Shinn renders the crowd with quick, simple gestures. Facial features are limited to black smudges in the front row that define eyebrows, lips, and chins, while, beyond the front row, faces appear only as a blur of swirling ovals.