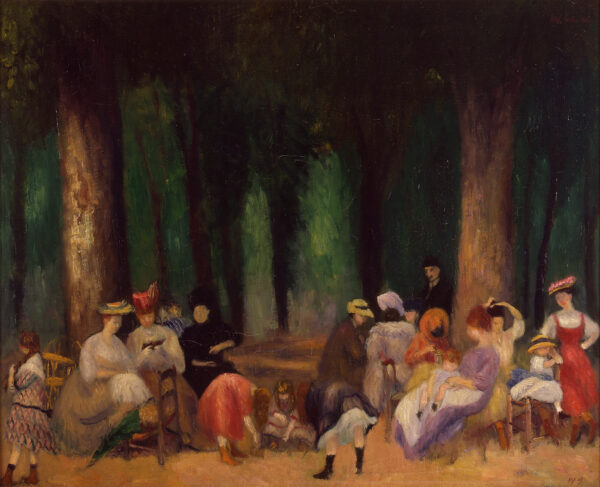 Close
Luxembourg Gardens
Glackens, William J.
1906
---
Artwork Information
Wichita Art Museum, Roland P. Murdock Collection
---
About the Artwork
Glackens' art, like that of his mentor Henri, was a conscious revolt against the prettiness of academic American Impressionism. Early in his career Glackens was attracted to the work of Manet. Luxembourg Gardens reflects the art of Manet in several ways. The brushstrokes, though less square and more tapered, derive from a direct study of the early Manet. Also, like the French painter, Glackens reveals a fascination for the incidents of daily life. Glackens' most distinctive traits, his sense of vivacity and movement, can be seen by comparing Luxembourg Gardens, to a similar theme by Manet called Concert in the Tuileries (The National Gallery, London).
In Glackens' picture, figures are less poised, and the movement is more animated and varied. The work also indicates that Glackens was responsive to that master of color, Renoir. Unlike Concert in the Tuileries, the touch is lighter, the contrasts of light and dark are not as abrupt, the color is fresher—all this is Glackens' debt to Renoir. The sparkle of the painting prompted Lloyd Goodrich to write: "It seems to me one of the finest of Glackens' works, and a most delightful addition to your collection. Speaking from the museum standpoint, I envy you the possession of it." A second version, also dates 1906, is in the permanent collection of the Corcoran Gallery of Art, Washington.