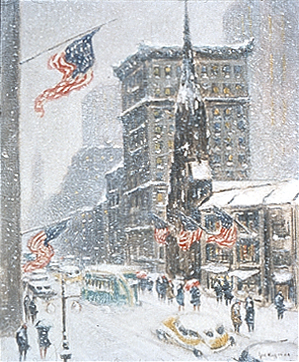 Close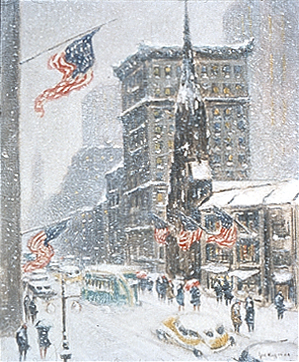 Looking Down 5th Avenue
Wiggins, Guy Carleton
about 1947
---
Artwork Information
Wichita Art Museum, John W. and Mildred L. Graves Collection
---
About the Artwork
The son of artist Carleton Wiggins, Guy Wiggins was born in Brooklyn, New York. Although he attended grammar school in England, Wiggins returned to New York to study at the National Academy of Design under William Merritt Chase. By the time he was twenty, the pre­cocious young artist was represented in the perma­nent collection of the Metropolitan Museum of Art, and numerous awards were to follow.
Adopting the loose brushwork and vibrant palette of his teacher, Wiggins learned from the start to paint as an impressionist; and he continued to do so long past the heyday of American Impressionism. For most of his career, Wiggins divided his time between New York City and Connecticut, where in 1920 he bought a farm near the art colony at Old Lyme. Among the colony's more famous painters was Childe Hassam, whose rosy views of urban life influenced Wiggins s own cityscapes. In 1937, the artist relocated to Essex, Connecticut, where he opened the Guy Wiggins Art School.
Wiggins's alternation between New York and rural Connecticut was a typical pattern among the American Impressionists, for whom the country and the city were central artistic themes. In paint­ing these subjects, they opted for picturesque views over the presentation of less palatable social reali­ties. The countryside became for them a pastoral retreat—both in their art and in their art colonies—while they chose to depict the city as a decidedly pleasant, bourgeois environment.
Wiggins's Looking Down Fifth Avenue is typi­cal of such cityscapes. There is no sense of urban alienation here, as a soft white blanket conceals the cold asphalt and concrete of the city. There is nothing ominous about these skyscrapers, nearly hidden behind a veil of gently falling snow. But Wiggins's New York offers more than just wintry urban reverie: rippling American flags add a patri­otic flair, while amidst all the hustle and bustle of the city, the steeple of Fifth Avenue's First Presbyterian Church reminds us of less worldly concerns. In Looking Down Fifth Avenue and in many similar canvases, Wiggins made his patrons feel good about city life; they returned the favor in their eagerness to purchase his snow scenes. Whenever he needed a little cash, Wiggins claimed he could always "brush up a little snow."1
1. Guy Wiggins quoted in Adrienne L. Walt, "Guy Wiggins: American Impressionist," American Art Review 4, no. 3 (December 1977): 103.