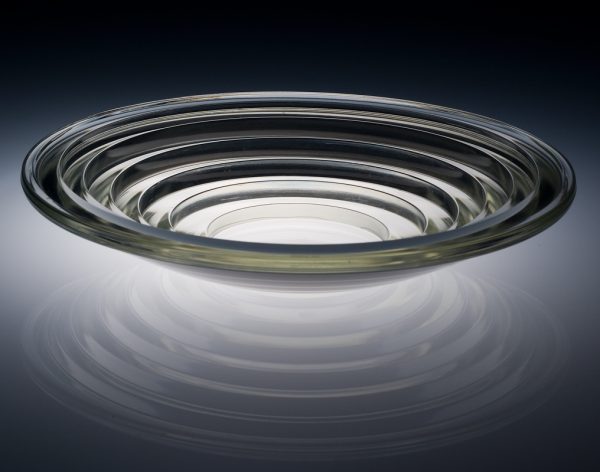 Close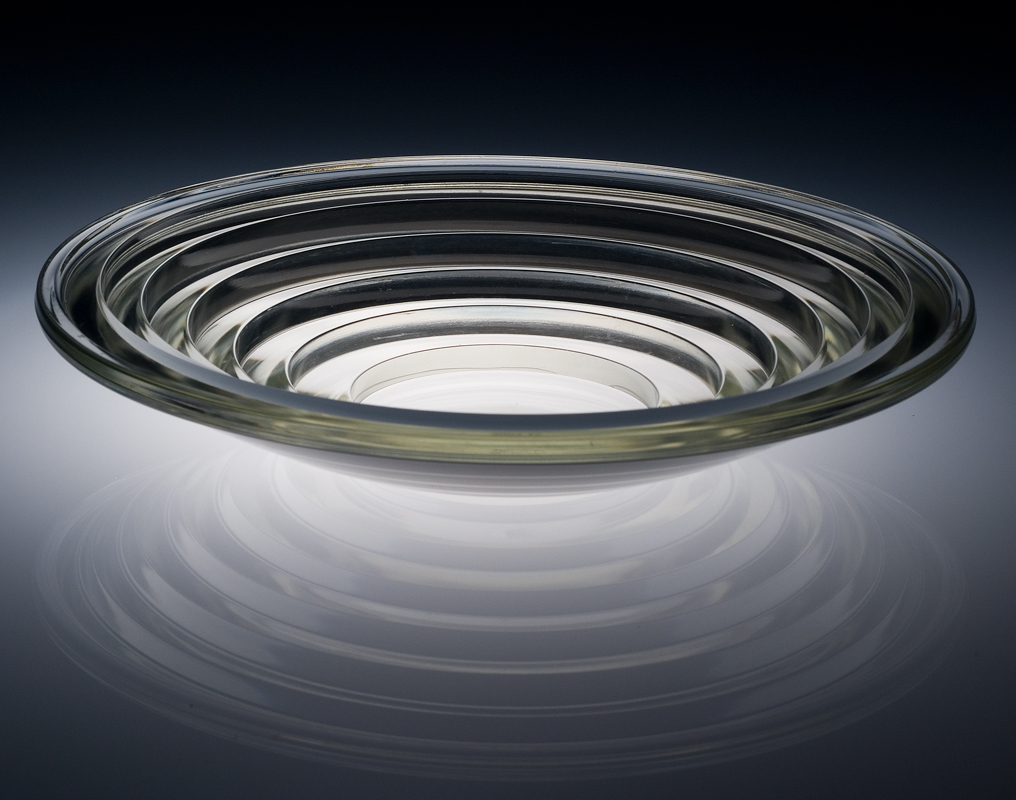 Lens Bowl
Steuben (Walter Dorwin Teague, designer)
about 1932
---
Artwork Information
Steuben (Walter Dorwin Teague, designer)

Wichita Art Museum, Museum purchase, F. Price Cossman Memorial Trust, Intrust Bank, Trustee
---
About the Artwork
The Great Depression was devastating to the luxury trades. Sales of Steuben glass in 1931 were less than half their 1929 level. The management of Corning Glass Works, which had owned Steuben since 1918, blamed the extent of the crisis on the artistic direction of Frederick Carder, who, they said, was out of tune with the times. In an attempt to turn Steuben around, Amory Houghton, the president of Corning, moved Carder out of the leadership of Steuben, and in 1932 hired the celebrated industrial designer Walter Dorwin Teague (1883–1960) to create a new series of designs for Steuben glass. The choice of an industrial designer to redesign luxury glass was not an eccentric one at the time, for this new breed of designer had actually improved sales of other products by giving them a sleek and streamlined appearance. Kodak's "Brownie" camera (1927), which was designed by Teague, was a major success. Other products designed by him include a Marmon automobile, Texaco gas stations, and the interiors of the Boeing 707 and 727.
The Lens Bowl came out the year Teague designed for Steuben. It is not quite accurate to say, however, that Teague designed the Lens Bowl, for it genuinely was the lens to a locomotive engine light, produced at one of Corning's plants from Pyrex glass (thus the yellow cast to the glass, in contrast to the brilliant colorless crystal typical of Steuben). The only difference between a "Steuben" lens bowl purchased at a boutique or luxury department store and the glass cover of a locomotive light was the polished base of the Steuben "bowl."
Was Teague playing an art-world prank on the directors of Steuben?  Indeed not, for Teague would have taken very seriously the transfer of the glass lens from rail yard to home. He did so because of his experience working with the towering French architect and designer Le Corbusier in 1926. Le Corbusier believed that a house should be a "machine for living," unscathed by ornament or gratuitous decoration. He advocated the use of industrial materials and processes in the construction and furnishing of the modern home. Such a transformation of the domestic environment would promote, thought Le Corbusier, a cleansing of the vulgarity—both moral and aesthetic—into which Western society had fallen. The fact that the Lens Bowl was not only made from an industrial product (Pyrex glass) but actually was an industrial object would have made it doubly appealing to Le Corbusier. Thus, the Lens Bowl is a canonical work of Modernist art/design, inspired by one of the movement's most influential leaders. Unfortunately, this seems to have been lost on the American public, for very few were sold; the Museum's Lens Bowl is a very rare example of the Modernist ideal.