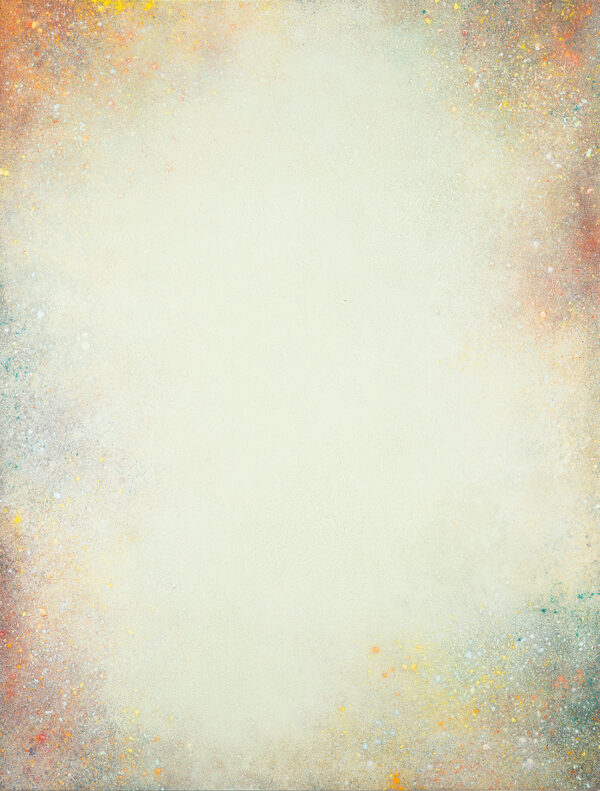 KANDARIYA III
Bhavsar, Natvar Prahladji
1971–86
---
Artwork Information
Bhavsar, Natvar Prahladji

Dry pigment and acrylic on paper

Wichita Art Museum, Museum purchase, Friends of the Wichita Art Museum, Director's Discretionary Fund
---
About the Artwork
In this forceful work titled Kandariya III by the American painter Natvar Bhavsar, subtle nuances in color relationships, coupled with a tranquil but vital presence, magically produce the impression of a vast outer space filled with a radiant burst of cool green light surrounded by a dusty glow of many speckled colors. Yet in no sense is this to be interpreted as a conscious objective on the artist's part for Bhavsar's work copies nothing and indeed is in every sense a genuine aesthetic expression. His works are entirely nonobjective and the effects which are so stirring and at the same time so tranquil are actually the outgrowth of a traditional folk painting technique which he learned as a youth in his homeland, in Gothava, Gujarat, India where he was born in 1934. That technique with which he became ac­quainted early in life is known as Rangoli, a kind of festive holiday ritual by which Hindus throw pure powdered color onto the ground to create decorative forms. And of course, it is this that is basical­ly the background out of which derives the fascinating technique which Bhavsar currently employs in creating such lyrically expressive abstractions as Kandariya III.
Bhavsar settled in the United States in 1962. At that time, he was 28 years of age and promptly became an ac­tive member of the New York School of Colorists and today must be recognized as one of the most innovative colorists in the world of American contemporary paint­ing. In his youth, however, he was trained in the academic tradition and painted handsomely composed landscapes, portraits, and figurative groups. But he abandoned such conventions early and his mature style became entirely non-objective. He uses no fiber brushes, no palette knife, and no air brush, and neither pours, nor drips liquid pigment. Instead, he simply sifts dry powdered pigment through a fine screen strainer held above a horizontally stretched ground of canvas or, in this instance, of paper on which a wet acrylic binder has been applied. The process is, of course, not carried out haphazardly for as he moves the screen strainer about over the paper field, he must control the rhythm of his own body movements and is concerned at all times about speed and about the distance between the screen and the field in order to ensure both the desired distribution and the density of the color within any given area. And as the minute particles of pigment fall upon the field, they adhere firmly to the clear acrylic binder.
This procedure does indeed demand infinite care but it is a fascinating process, and, although the end result might well stimulate our imagination about what a visual experience of outer space would be, such is in no sense the deliberate intention of the artist himself. In­deed, in producing Kandariya III, what Bhavsar has done is to create an art work which has a life of its own, entirely independent of any reference to any sentiment or any material reality other than the reality of the work of art itself. He has simply given form and psychic meaning to color and color relationships. Admittedly, to the viewer Bhavsar furnishes the sensation for what seems like a vaguely familiar reality, whether intended or not, that is perceived as though through a dia­phanous veil — a reality slightly blurred in its outlines and one not quite within our grasp but which perhaps corresponds best to what we sometimes experience in the subliminal state just below the threshold of con­sciousness, a state which may at once be tranquil and liberating and out of which we emerge refreshed and revitalized.