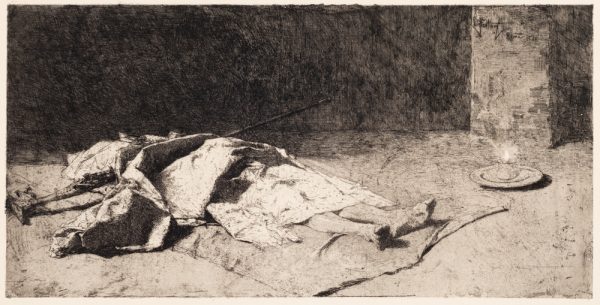 Close
Kabyle Dead
Fortuny y Carbo, Mariano
1867
---
Artwork Information
14 1/16 x 20 13/16 inches

Wichita Art Museum, L. S. and Ida L. Naftzger Collection of Prints
---
About the Artwork
The Spanish artist Mariano Fortuny was one of the most popular and internationally respected academic painters of the 1860s and early 1870s. He specialized in Orientalist genre and history subjects, a dominant theme in both conventional and vanguardist European art from the 1820s to the end of the century. However, it was Fortuny's bravura brush-work and his emphasis upon light as a central factor in his imagery which made his work so appealing to the Salon public and to his fellow artists.
Contemporary critics praised Fortuny for his naturalism and for the "dazzling luminosity" of his canvases. While the artist maintained a conventional commitment to the elaboration of descriptive detail, he also demonstrated an innovative use of textured brush work and a bright color palette to convey a palpable sense of outdoor light and atmosphere. Twentieth-century admirers of Fortuny argue that his work encouraged the development of the study of light and air, or Impressionism.
Fortuny's technical virtuosity extended to printmaking and his etchings were also much admired. His prints certainly provided example and encouragement to the revival of the painter-printmaker tradition. The same emphasis upon the dramatic and compositional importance of light with distinguished Fortuny's painting is evident in his etchings.