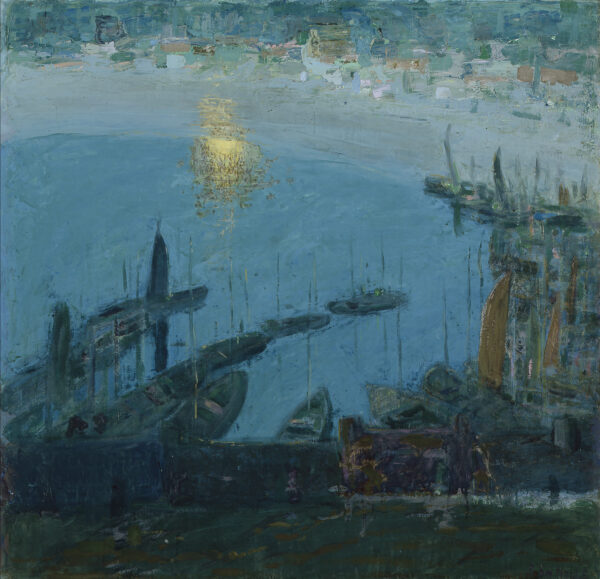 Close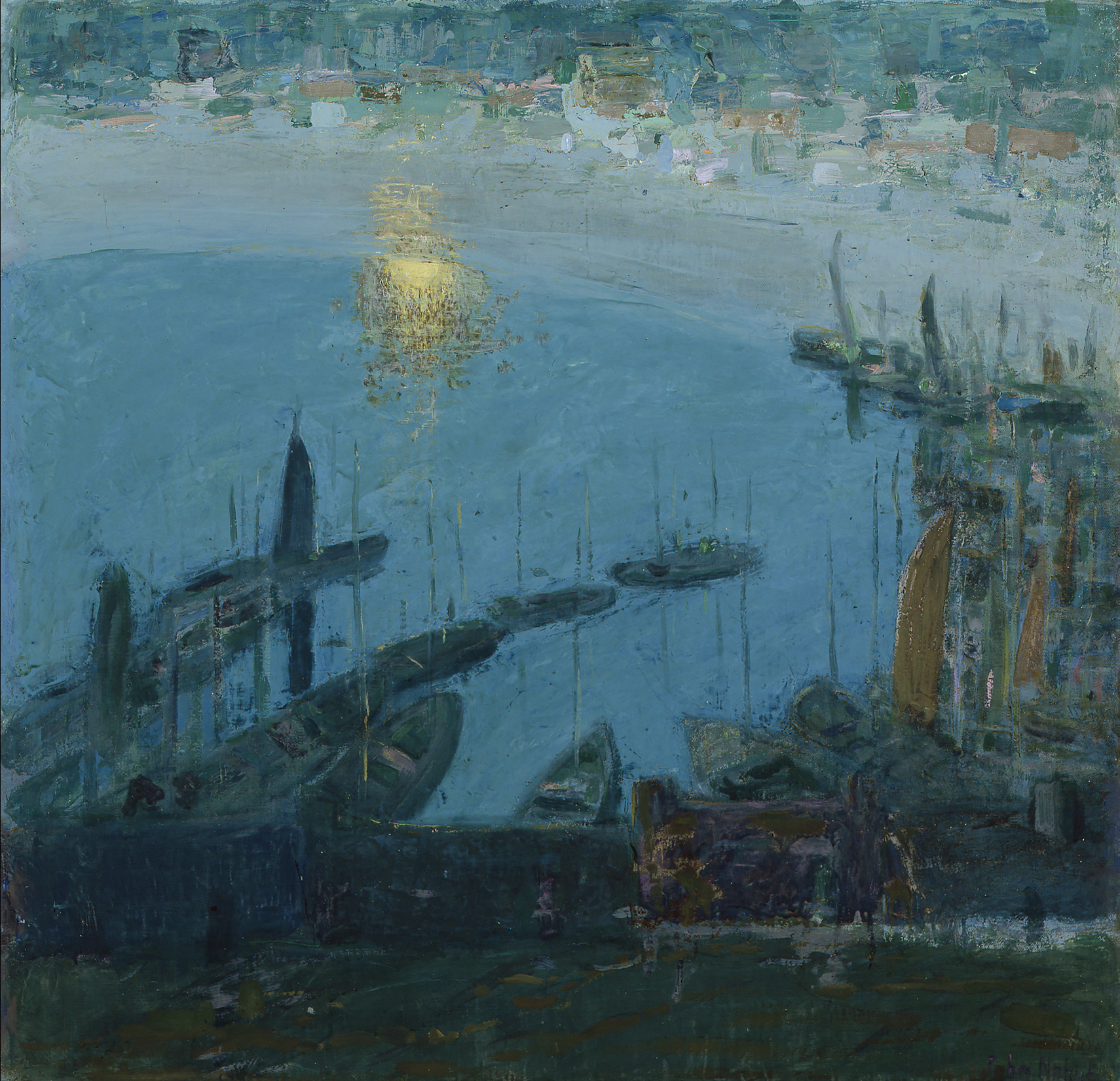 Harbor by Moonlight
Noble, John
about 1911–13
---
Artwork Information
Wichita Art Museum, Museum purchase, Paul Ross Charitable Foundation Fund
---
About the Artwork
This tranquil scene titled Harbor by Moonlight by the Wichita-born artist John Noble was painted quite prob­ably in Etaples, France shortly before the opening of World War I. The subject matter is fully announced in its title. But what is more important than the subject matter itself, is Noble's creative rendering of that sub­ject: the bravura brushwork, the sensitive orchestration of colors and color forms, the lyricism imparted to a commonplace setting and the uplifting visual experience afforded by the exaggerated point of view when looking down from above.
Especially noteworthy is the narrow arched upper register of the work consisting of a network of color patches, which the eye magically transforms into a fishing village with clustered red-roofed houses stretch­ing along the water's edge. In like manner, the composi­tion contains summarily treated yet readily identifiable forms, as for example the fishermen's boats painted with loosely applied strokes of black-gray and dark brown pigment and thus appearing to be in deep shadow. And silhouetted against the dark blue sea these forms stand out in bold contrast with the delicate tones of the background town itself.
But perhaps the focal point of the composition is the bright splash of cold yellow moonlight glowing from the quiet surface of the water. Yet no element here is in any sense a copy of any specific object. Instead the entire work is a freely created interpretation of an experience, which the artist knew and understood and which in this rather impressionistic manner he communicated more effectively than he could possibly have done had he pro­duced a detailed photographic likeness. Of course, it was this capability, which was the genius of John Noble and which so fully expressed his own creed that art should be creative rather than imitative.
John Noble was born in Wichita, KS on March 15, 1874. As a boy he had no formal schooling and instead worked with his father driving cattle over the Chisholm Trail. Eventually, however, he went to Cincinnati where he studied for a short time at the Cincinnati Academy of Fine Arts. In his early career he worked as a newspaper cartoonist and painted portraits of nudes for public bars. One of these paintings was the celebrated Cleopatra at the Bath, which hung behind the bar of the Carey Hotel in Wichita and it was that painting which won notoriety when it was gashed by the zealous social reformer, Carrie Nation in 1901.
While still a young man, Noble went to Paris and studied at the Julian Academy as well as at the Ecole des Beaux Arts in Brussels. In 1906 he married a French girl and settled in Brittany where he worked as a fisherman with a sardine fleet. It was during this period and in the succeeding years spent in Etaples and in London that he gained fame as a painter of the sea. In 1920 he returned to the United States where he spent the remainder of his life. Noble was active both in New York and in the well known Provincetown art colony and actually founded the Provincetown Art Association, serving as its first president. He was a true individualist and a true roman­tic, but his life was a turbulent one. He suffered from chronic alcoholism and in 1934 died in Bellevue Hospital, New York City, from paraldehyde poisoning.