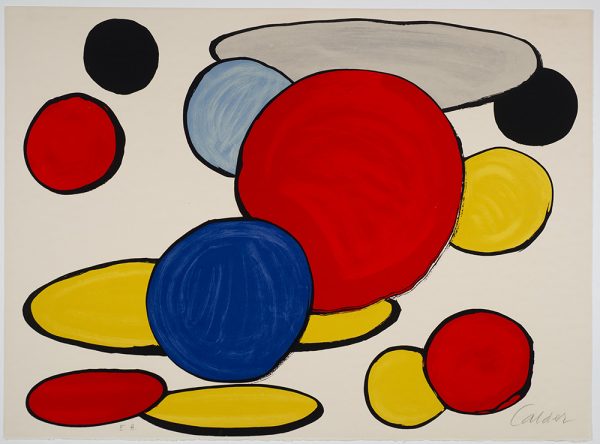 Grey Ellipse
Calder, Alexander
1975–76
---
Artwork Information
Wichita Art Museum, Gift In memory of Paul and Phyllis Hampel
---
About the Artwork
Best known for his mobiles, Calder's works in all media (sculptures, paintings, and prints) are informed by an interest in balancing colors and shapes. Born to a storied family of Pennsylvania artists—his grandfather sculpted the monumental statue of William Penn that tops Philadelphia's City Hall—Calder was initially urged by his family to avoid art and pursue a more practical profession. Calder graduated with a degree in mechanical engineering from Stevens Institute of Technology, but after a few years as a hydraulic engineer he enrolled at the Art Students League in New York City.
In 1926, Calder moved to Paris, where he befriended various members of the Parisian avant-garde. It was in Paris that Calder first combined his mechanical expertise with his passion for abstract art, creating his first kinetic sculptures. Avant-garde artist and philosopher Marcel Duchamp christened the sculptures "mobiles," a French pun meaning both "motion" and "motive." Thereafter, Calder moved from success to success.
In 1943, the Museum of Modern Art staged their first Calder retrospective. By the 1950s, Calder's sculptures graced such major sites as JFK Airport and Paris' UNESCO building. Today, his work is in major collections throughout the world, including Paris' Centre Pompidou and Madrid's Museo Nacional Centro de Arte Reina Sofía. The Whitney Museum of American Art holds the world's largest collection of Calder.