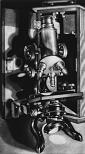 Grandpa's Microscope
Wax, Carol
1983
---
Artwork Information
Wichita Art Museum, Museum purchase, Director's Discretionary Fund
---
About the Artwork
Carol Wax was born in New York City in 1953. She originally wanted to be a musician and earned a degree from the Manhattan School of Music in 1975. Almost immediately afterward, however, Wax enrolled in printmaking courses and changed her focus to the visual arts.
Working in conventional print media Wax found she liked to build light areas on the plate out of dark backgrounds. Her fellow printmakers suggested that she investigate mezzotint. She studied the color mezzotints of Hamaguchi, but preferred black and white imagery.
Wax was disappointed to find that there was almost no information available about the technical processes and possibilities of monochromatic mezzotint. She conducted her own research into the black and white mezzotint production of the 18th and 19th centuries. As a result of that work, Wax wrote a book about the history and development of mezzotint.
Wax studied at the Art Students League in New York City, the Lake Placid School of Art in Lake Placid, New York, and at Pratt Graphics Center, New York City.