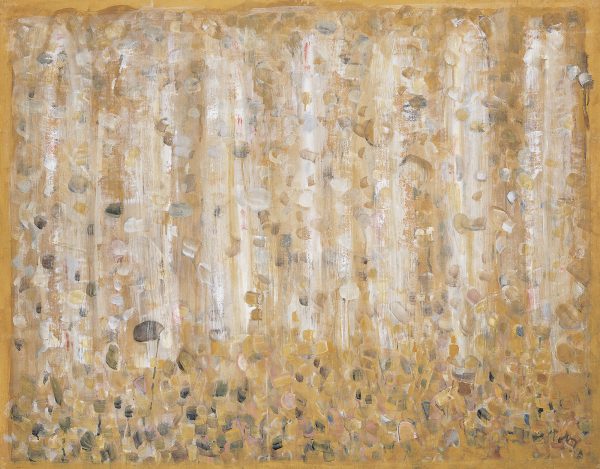 Golden Gardens
Tobey, Mark
1956
---
Artwork Information
Tempera and graphite on paper mounted on panel

Wichita Art Museum, Roland P. Murdock Collection
---
About the Artwork
Mark Tobey's paintings achieved their greatest critical acclaim in the 1950s amid the fanfare surrounding the emergence of the Abstract Expressionism. However, Tobey's use of all-over marking not only predated that of Jackson Pollack, it also had its origins in a totally opposite perception of the world. Whereas the Abstract Expressionists extolled the boisterous, muscle-flexing street energy of 20th century urban America, Tobey exhaled a sensibility attuned to the quasi-mystical philosophies of the pioneer modernists and the c Faith of which he was an adherent. Indicative of his cultivation of an artistic élan vital was Tobey's instruction to students at work at a long table with boards, inks, pens, and chalk: "…for God's sake play dance music! Now dance—dance—right round the great table…Now put your boards against the walls and dance on them with your chalk." The large-scale painting of Golden Gardens represents Mark Tobey, an artist of enduring international stature, at the peak period of his creative production
Always an experimenter, Tobey constantly tried new approaches to making art. The artist's friend Arthur Hall Smith, who shared a studio next door to Tobey's in Seattle during the years 1955-56 when this work was painted, described the artist's working methods of that time. Tobey painted quickly using gouache, tempera, and inks. Nonetheless he often developed an image over time, reworking it day-to-day, with a periodic "washing down" of the surface that allowed him to soften and diffuse opaque colors and build up new touches over ghostly layers of gesture.[1]  Golden Gardens exhibits this reflective process in the abraded surface of its paper and in the floating of substantive strokes of color over "shadow" strokes of color.
Noting that Tobey was deliberately vague about specific motifs that inspired individual paintings, Smith stated that Tobey might, for example, rely upon a memory image of a sensuous detail such as a swan's breast to create a rhythm of curved lines, or he might start with something as pedestrian as a postcard image of a building or locale. Smith believed that WAM's Golden Gardens was directly related to a watercolor of the previous year, Fountains in Europe.
Given this invaluable insight, one can easily feel in Golden Gardens the joyous rush and  ebullient splashing of crystal waters, the movement enhanced by the prismatic color of sunlight dancing to and fro in space, while overall the muted translucence of the layered coloring emits a quiet, penetrating contentment.
[1] Smith, Arthur Hall, "Remembering Mark Tobey," Museo Nacional Centro de Arte Reina Sofia, Madrid, 1998, pp. 137-145, p. 137.