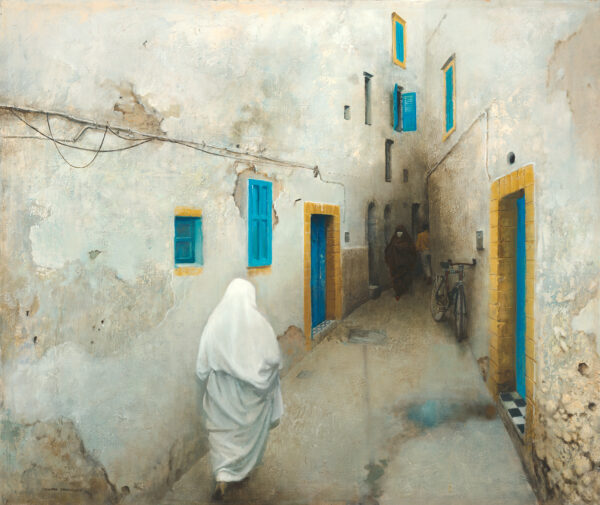 Ghost Women of Essaouira, No. I, The
Browning, Colleen
1983
---
Artwork Information
Ghost Women of Essaouira, No. I, The

American (born in Ireland) 1929–2003

Wichita Art Museum, Museum purchase, the Lulu and Kenneth Brasted, Sr. Memorial Fund
---
About the Artwork
This painting, titled The Ghost Women of Essaouira, No I, was executed in 1983 by the American realist Colleen Browning. The work simply depicts three figures—two women heavily cloaked in traditional Eastern dress and one male in western garb seen in the far distance—who are walking along a narrow, alley-like street in Moroc­co. But the primary interest of this painting stems not from the theme but from the powerful formal dynamics of the composition itself. Indeed, the arrangement of line, shapes and colors is geometrically planned to draw the eye to a central focal point. For the vast stretches of wall surface that border the narrow street are punc­tuated by the bright blue and yellow windows and doors that cluster near the center of the composition and hold the viewer's attention. At the same time, the eye travels along the narrow street into the compositional depths where it halts as the street bends to the right in a murky atmosphere of ominous shadows. It is there that visibili­ty ends and imagination takes over.
Another aspect of enormous interest relates to the sensorial responses vicariously experienced as the result of the artist's treatment of the scene. For the attentive viewer readily becomes aware of the stench of stale air trapped in the narrow street, the reverberating clack of the footsteps in an otherwise silent setting, and the un­sightly stains both on the walls and on the street. Moreover, the marked variations in the thickness of pig­ment applied by the artist to the canvas accent the im­pression of crumbling stucco and patched wall surfaces so commonly found on actual house walls in the Mediterranean region.
One other point of much interest is found in the marked contrast between the social reality of the past in confrontation with present-day activities. This, of course, is effectively accomplished by the introduction of such anachronistic elements as the bicycle, the elec­tric wiring, the high heeled shoes worn by the cloaked woman in the foreground and the steel manhole cover set into the street near the center of the composition. In­deed, the technique of compressing time in a composi­tion of this type is a feature that justifies the use of the term new realism as a valid description of much contem­porary work.
Colleen Browning is of Celtic ancestry and was born in County Cork, Ireland, in 1929. She studied art at the Slade School of Art in London. In 1949, she immigrated to America and settled in Rochester, New York. She is a resident of New York City but, at the same time, has a studio on the Caribbean Island of Granada, where she spends many months each year. She has exhibited in major museums throughout the United States and Europe.