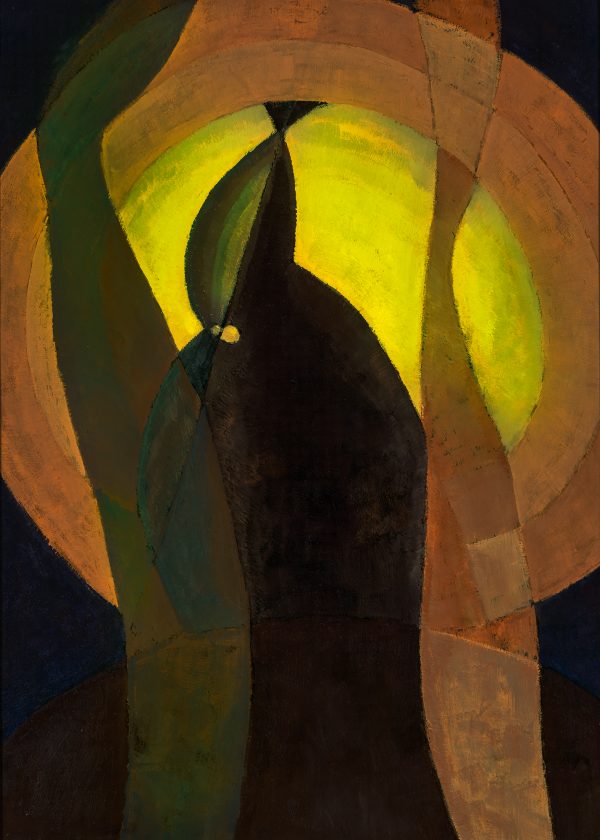 Forms Against the Sun
Dove, Arthur G.
about 1926
---
Artwork Information
Wichita Art Museum, Roland P. Murdock Collection
---
About the Artwork
Arthur Dove was one of the 20th century's most original creators of abstract form. Dove painted his first totally not-objective image in 1910–11 and may be counted among the earliest Western artists to have arrived at such a conceptualization of experience. Dove declared that his art derived from his emotional responses to plant and animal shapes, textures, and colors; from the sensations of motion in the wind and water, the radiant energy of the sun; and from the temperature and tenor of sounds and smells. Throughout his career Dove sought to express his intimate conception of nature in a personal symbolic language, sometimes referring to recognizable object sources and in other phases of his work holding to pure abstraction.
Dove embraced America's rural environment in nationalistic as well as a pantheistic spirit. He derived his inspiration from specific places where he lived and worked in New England and on Long Island Sound. The artist shared with Kandinsky and many other modernists, American and European, a belief in the analogous sensations of sound and color, an interest in primitive art, the search for primordial forms, and a mystical belief in the communion of private feeling with essences of nature.
Dove's painting of Forms Against the Sun reiterates the character of the early abstractions of 1915 that he described as "nature symbolized," and features the central motif of his art, an emblem of the sun—symbol of regenerative force and sensuous warmth. In this image as in numerous others the sun is conceived of as a system of concentric circles that seem to radiate outward as the coloration moves from brilliant yellow through yellow greens to shaded degrees of ochre. Three ambiguous vertical shapes suggestive of both broad leaf and succulent plants rise from the edge of a dark brown globe and a background of blue-black. Two undulant leaf forms in green and gold, change color where they overlap other shapes. The large central body, reminiscent of an agave's leaf or even a primitive figure, rises before the sun, a swelling black silhouette crowned by a shading of concentric arcs at its "head."  It is this theme of radiant, expansive, and fertile generation that dominated Dove's imagination and gave expression to his self-identity.