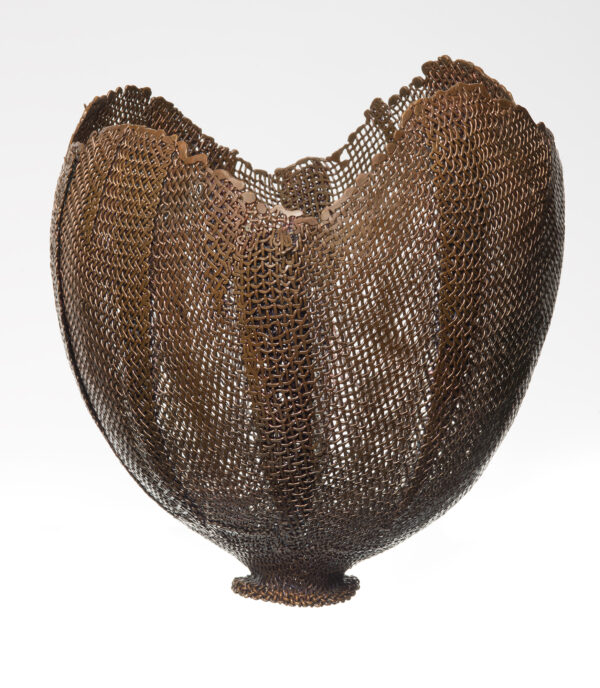 Footed Vessel
Pujol, Elliott
1982
---
Artwork Information
Wichita Art Museum, Museum purchase, Friends of the Wichita Art Museum, Vedere Ball Fund
---
About the Artwork
Elliott Pujol (American, born 1943)
Footed Vessel, 1982
Crimp-raised bronze, 9 Ѕ H x 9 in.
Wichita Art Museum, Museum Purchase, Hands-On Gallery Fund, Friends of the Wichita Art Museum, Inc.
1982.18
            Elliott Pujol's raised copper vessel represents the modern artist's interest in the purely aesthetic aspects of the functional object. His art-work is a non-functional form which may be seen as an expressive reflection upon the history and design of the vessel. Tripod containers have been produced in metal and clay by many ancient and modern cultures. Pujol has emphasized the universal appeal of this vessel design and its historic origins by making the object appear deliberately crude and organic as if it were some ancient utensil, which had lain in the ground for centuries and only recently been unearthed. His technique of coloring the metal by heating it to various temperatures gives the metal a jewel-like luster which contracts with the primitiveness of the form to evoke qualities of preciousness and elegance. In a similar contradiction of associations, Pujol makes the traditionally stable design of three legs appear delicate and fragile. His object is at once familiar and original, plain and ornate, a thing to be admired solely for its form.