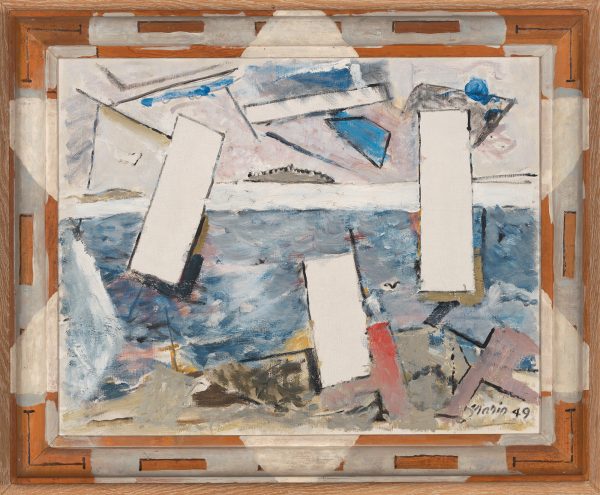 Fog Lifts, The
Marin, John
1949
---
Artwork Information
Wichita Art Museum, Roland P. Murdock Collection
---
About the Artwork
Near the end of his life Marin created some of his most lively, celebratory images of the Maine coast. He was seventy-nine when he painted The Fog Lifts, a picture that, in the words of one critic, "synthesizes all of Marin into oil."1 Painting on canvas after many years of working in watercolor, Marin successfully translat­ed the subtle and transparent qualities of watercol­or into oil. He renders the scene with expressive strokes, combining thick and thin layers of paint, often revealing areas of exposed canvas.
The jagged rocks along the bottom are execut­ed in Marin's highly personal calligraphic style. Above them float flat, geometric forms of fog, abstracted by Marin into white rectangles. This work captures the brief period during which fog disperses from the coastal areas in late morning, opening onto a view of the horizon. A silvery Maine mist lingers while hints of sunlight begin to diffuse through the atmosphere and illuminate the scene. White hovering blocks of paint dominate and activate the composition, appearing to advance and recede. The abstract pattern they create indi­cates not only the gradual lifting of the fog, but also the rhythmically shifting land and sea.
Marin's composition is not confined to the canvas but spills over onto the frame, also painted by the artist. Patches of white haze seem to drift out of the two-dimensional picture plane and onto the frame, extending the field of vision into three dimensions. "If I were younger," Marin said, "I would plunge into sculptures, but my frame-mak­ing will have to satisfy my sculptural urges."2
1.  Frederick Wight, "John Marin—Frontiersman," in John Marin Memorial Exhibition (Los Angeles: Art Galleries, University of California, 1955).
2.  John Marin quoted in Ruth Fine, John Marin (New York: Abbeville Press, 1990), 207.