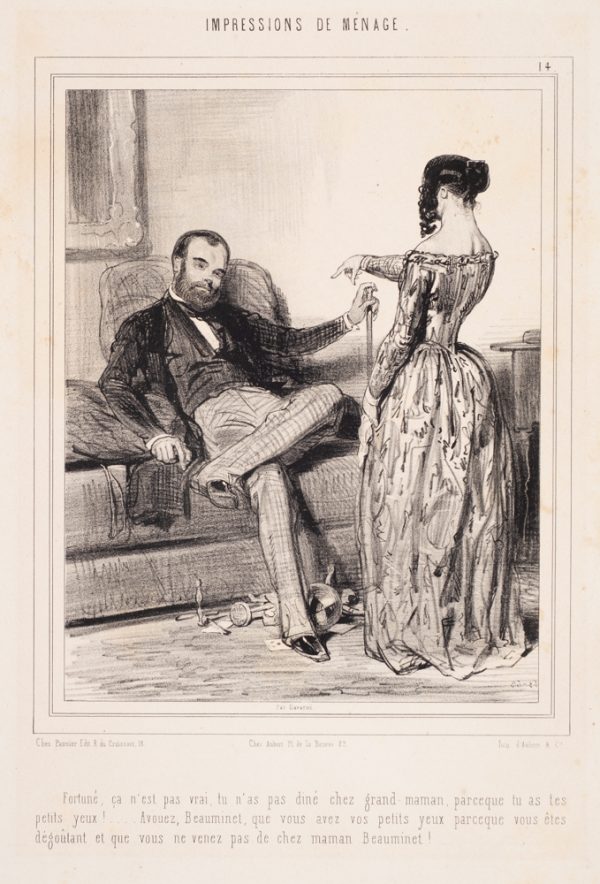 Close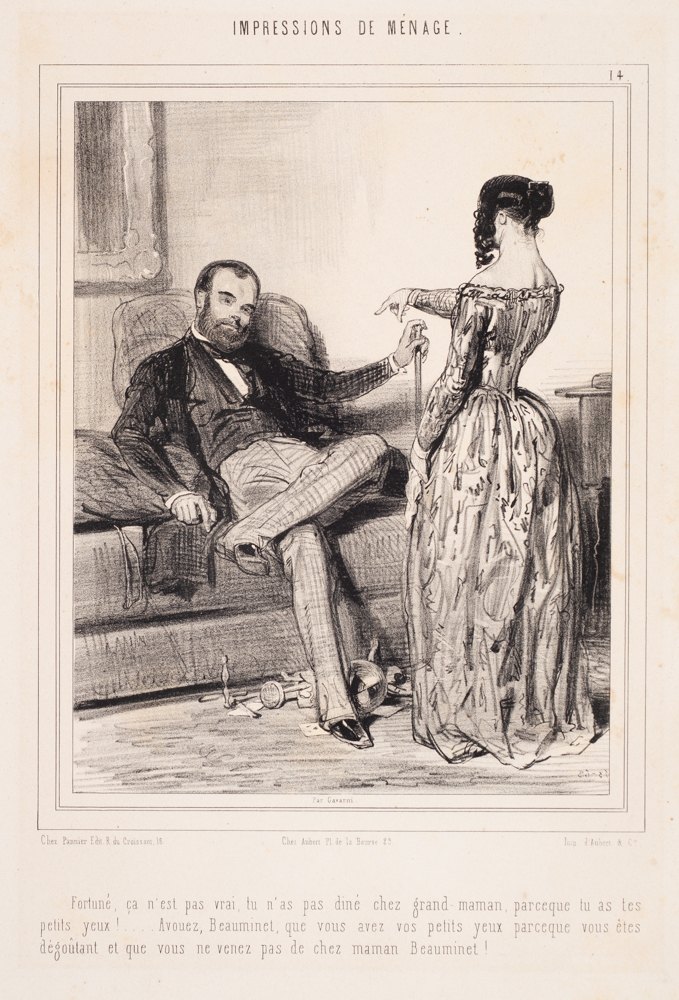 Family Scenes, Part of Set of 18 Plates
Gavarni, Paul
about 1846
---
Artwork Information
Family Scenes, Part of Set of 18 Plates

Wichita Art Museum, L. S. and Ida L. Naftzger Collection of Prints
---
About the Artwork
The art and literature of the nineteenth century doted upon children, most often portraying them in a sentimental fashion. Gavarni's cartoons counter the bourgeois ideal of the sweet and adorable child with a revelation of the mischief behind the appearance of innocence. The little devils never hesitate to comment upon someone's looks, to repeat private statements in public, or to reveal their parents' secrets.
The joke most often repeated in this series is the child's inadvertent disclosure of Mama's unfaithfulness to Papa. The object of scorn here is not so much the weak character of women or the simplicity of husbands as it is bourgeois morality. Gavarni's illustrations were directed at a dandyish audience – upper class males, intellectuals and artists – which was by and large contemptuous of middle-class sentimentality. They found the idea that marriage was a romantic love match even more absurd than the notion that children were angelic.
Gavarni wrote his own captions, not always the practice of illustrators, and is credited with introducing conversational captions employing contemporary slang. Critics admired his use of the language as well as his drawing. Edmond de Goncourt explained that Gavarni's usage of idiomatic speech as well as his precise attention to the fashions of the moment made him a modern artist. The very topical quality of his work sometimes obscures the meaning of an individual cartoon for present day audiences. However, the general perceptions of this urbane commentator may still be appreciated today.