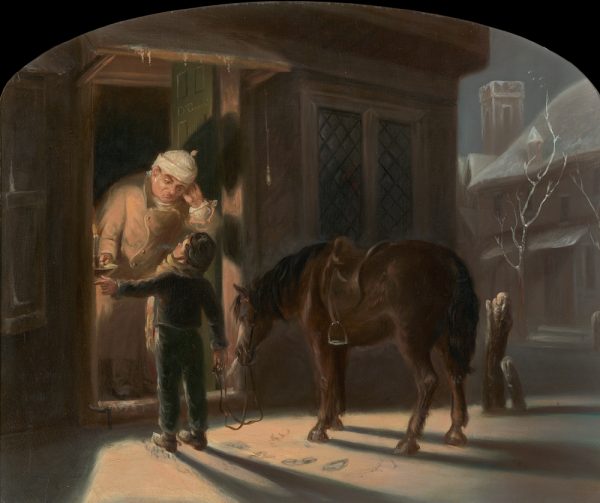 Close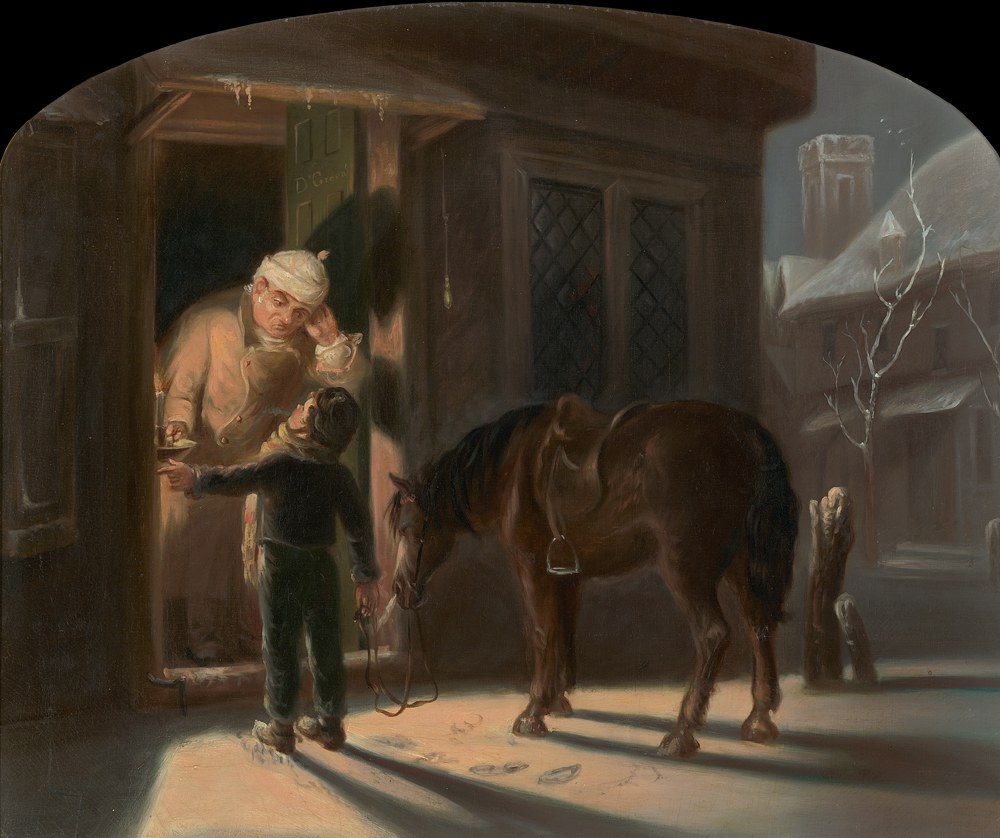 Doctor's Night Caller, The
Blythe, David Gilmour
about 1850
---
Artwork Information
Doctor's Night Caller, The

Wichita Art Museum, Gift of Mr. Frank D. Stevens
---
About the Artwork
David Gilmour Blythe was one of America's important mid 19th century anecdotal painters. Although his personal life was filled with tragedy, his paintings were generally touched with a quality of amusing wit.
In this work titled The Doctor's Night Caller, the moment depicted is a bleak and snowy wither night when a young and apparently excited boy has awakened a Doctor who, in robe and night cap, stands within his open door listening to the child's message. What the message is and whether the Doctor's response is one of alarm or of annoyance, we can only guess. Yet the arrangement of the two figures in the architectural setting and their expressive gestures help direct our attention on the narrative itself. Interest is further heightened by the concentration of intense light on the figures at the doorway and by the long and pointed diagonal shadows which lead the eye from the foreground to the figures themselves. And, although our attention by virtue of the strong pictorial devices used by the artist is prevented from straying from the narrative focus of composition, the narrative itself remains as mysterious as the eerie stillness and the deep darkness, which permeates the surrounding space of the composition.
Like many of America's early painters, Blythe was self-trained. He was born in 1815 near East Liverpool, Ohio and began his career as a carpenter. His own restless personality coupled with the tragedy of his wife's early death resulted n his wandering aimlessly from town to town and job to job throughout most of his adult life. Yet he was both a skillful and a prolific painter of satirical and witty anecdotal themes. The last 10 years of his life were spent primarily in Pittsburgh where, as an alcoholic and in poverty, he died in 1865 at the age of 50.