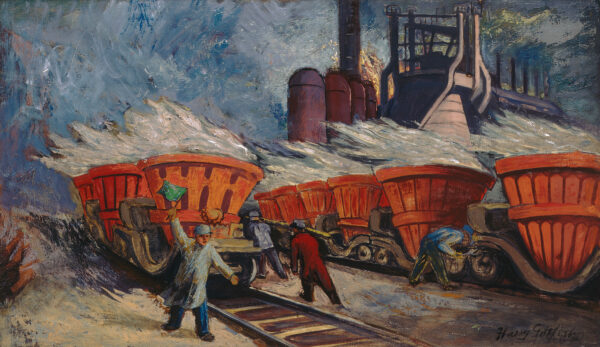 Dixie Cups
Gottlieb, Harry
1936-37
---
Artwork Information
Wichita Art Museum, Museum purchase, Friends of the Wichita Art Museum,Director's Discretionary Fund
---
About the Artwork
Born in Romania in 1895, Harry Gottlieb immigrated with his family to Minneapolis, Minnesota in 1906. At the age of twenty, he began his artistic training at the Minneapolis Institute of Art. Three years later he moved to the artists' colony at Woodstock, New York. A Guggenheim fellowship awarded in 1931 allowed him to travel to Europe. After his year abroad, Gottlieb returned to Woodstock, but moved short­ly thereafter to New York City to immerse himself in the cosmopolitan atmosphere he felt necessary to the growth of his work.
In New York Gottlieb joined other artists in the economic hardship brought about by the Great Depression. Seeking avenues toward employment, he optimistically joined the Artists Union in 1933, which led to his employment by the Public Works of Art Project, and its successor, the Federal Art Project. During this time, Gottlieb took up the mission of promoting the political aims of the Artists Union, and in 1936 was elected president of that body. As the Federal Art Project came to a close in 1939, Gottlieb struggled to preserve the partnership between government and working American artists. His vision of enduring economic support for artists failed to materialize, however, and by 1942, the art project had been reduced to a minor department within the War Services Division.
Under the auspices of the Federal Art Project, Gottlieb produced numerous portrayals of the American worker, of which Dixie Cups, is a charac­teristic example. In Dixie Cups, kettles of molten metal clash against frigid air and the resultant steam is borne away by a brisk wind. Steel workers carefully attend to the task at hand as the green flag waves the production line forward. Clearly, it is the force of men that moves the production of steel, and for Gottlieb, the strength of the industry relied upon the strength of the American worker in his acts of everyday heroism.