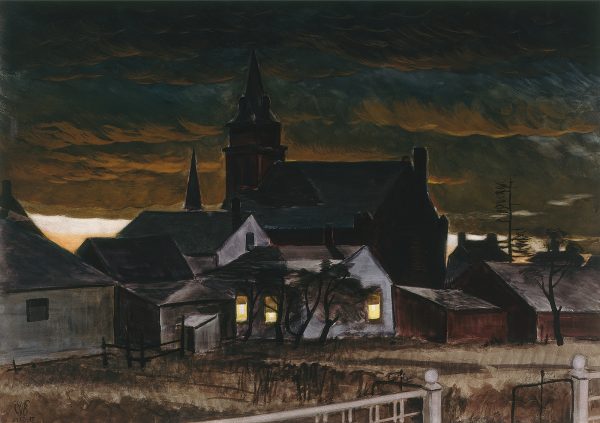 December Twilight
Burchfield, Charles E.
1937–38
---
Artwork Information
Gouache, watercolor, and charcoal on paper

Wichita Art Museum, Roland P. Murdock Collection
---
About the Artwork
Burchfield painted December Twilight from his backyard in Gardenville, New York, a suburb of Buffalo. The viewer enters the foreground of the landscape and is immediately drawn through the open gate towards a lingering, fluorescent sunset. Sharp, angular forms of buildings create a jagged barrier between the viewer and the setting sun. Artificial light glows from inside a neighboring residence, evidence of human activity hidden behind drawn window shades. Above the buildings, warm natural light reflects on a heavy blanket of clouds, against which a dark church spire is outlined. The ominous sky contrasts in mood with Burchfield's evocative narrative that recounts his direct inspiration for this painting:
"I got the idea for it one Christmas Eve. My children at that time were young enough to still believe in Santa Claus—and accordingly I was out back of the studio, out of their sight, fixing the mornings Christmas-tree to its standard.
It had been an unseasonably warm day, culminating in a violent thunderstorm at late afternoon, and after it had passed as I was working, I looked up and saw this strange sight in the sky, in the southwest. Something of the unusual weather, the oddity of a thunderstorm in late December, perhaps some of the feeling of Christmas, and the usual mystery of twilight combined to make this seem an unusual sight. It had a feeling to me also of some far North country such as Alaska, Labrador, or more particularly, Scandinavia (tho I have never visited these countries). I dropped everything, ran, and got paper and pencil, and hastily made pencil notes.
The impression was so strong that it survived all the excitement of Christmas day, and on the day following 1 started the painting. I have always thought of it as the "Christmas Eve" picture, but I felt "December Twilight" a more comprehensive title.1"
Burchfield's words distinguish the romantic, spiritual nature of his artistic expression from his conventional role as a father of five, compelled to record his dramatic response to a winter storm in the middle of holiday preparations.
John I. H. Baur calls Burchfield a "pantheist." one who sees God everywhere, in the entirety of the natural landscape.2 In December Twilight, the church spire functions not only as a symbol of the religious institution, central to the Christmas sea son, but also as a link between the domestic warmth of homes and the overwhelming presence of God and nature in the dramatic sky that envelopes the entire scene. It may be significant that around the time of this painting, Burchfield converted to his wife's Lutheran faith; however, most biographers agree that this visionary painter worshiped Nature, over God.
1  Charles E. Burchfield, letter to Elizabeth S. Navas, 17 September 1939, registrar's files, Wichita Art Museum.
2  John I.H. Baur, The Inlander: Life and Work of Charles Burchfield, 1893-1967 (Newark, N.J.: Associated University Presses, 1982), 257-63.