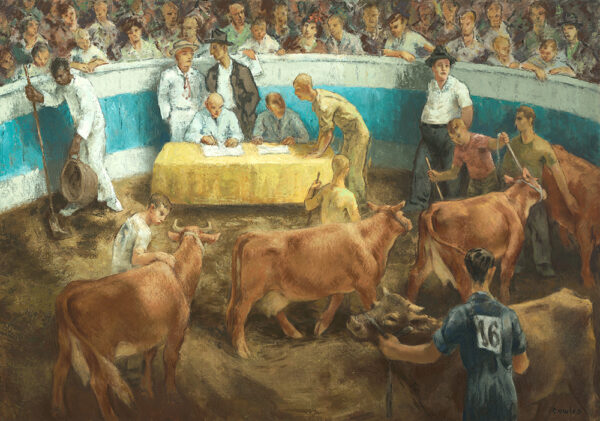 County Fair
Cowles, Russell
1944
---
Artwork Information
Wichita Art Museum, Roland P. Murdock Collection
---
About the Artwork
Nostalgic recollections of grand white exhibition buildings that smell of hay and friendly competition amongst farm youths vying for ruffled blue ribbons surround Russell Cowles's painting County Fair. Cowles returned to his Midwestern roots to present a scene drawn from pleasant memories of his childhood in rural Iowa. This celebration of agrarian life shows the influence Of Regionalist painters such as Thomas Hart Benton, John Steuart Curry, and Cowles's fellow Iowan Grant Wood. The Midwestern values and nostalgia for a simpler past that these men championed permeate Cowles's interpretation of livestock judging at an annual county fair.
Cowles was born in Algona, Iowa in 1887. Despite his small-town upbringing and treatment of provincial subjects, Cowles was, in both experience and training, a very cosmopolitan artist. He attended Dartmouth College, and then studied in New York at the Art Students League and the National Academy of Design. In 1915 he won the Prix de Rome and for the next five years studied at the American Academy in Rome. After returning briefly to the United States, he went back to Europe to continue his training. He studied in Paris, and then toured the globe, absorbing artistic lessons from Spain, Egypt, Greece, India, Japan, and China. Steeped in diverse styles and techniques, he returned to the United States in 1928 to forge from these influences his personal artistic vision. His style varies from abstract to representational, and his subjects from still lifes to landscapes, animals, and religious scenes.
Cowles's County Fair depicts dairy cattle judging in the livestock pavilion. Proud young owners parade Brown Swiss cattle past judges, while an eager audience watches in anticipation to see which animal will be proclaimed the champion. Personalities of humans and cattle alike are communicated through various postures and physical builds. It was Cowles's goal to "bring out something of the individual character of the various exhibitors and judges without destroying the sense of unity in the picture."1 The sketches for County Fair were actually made at the Iowa State Fair, but Cowles wished to express the more intimate and informal character of a small county fair. He discovered that by attending the early morning preliminary judging he could capture this quality. Cowles also found the state fairs arena to be too large, and thus in his painting reduced its size to achieve a "feeling of intimacy," and "greater plastic compactness."2 Cowles stated that the judges' table, "through its place in the composition and the strength of the light on it, becomes the focus both of the subject matter and of the plastic organization of the painting," and that "from this group interest spreads throughout the rest of the picture, being arrested for a shorter or longer time by various details."3 One of the "details" is a solitary black man at the left of the composition who is dressed entirely in white. His presence is commanding, and he vies with the judges for our attention. Like the judges, he too receives direct light, but he looks down and out of the picture, away from the rest of the group. This man is physically and emotionally segregated by lack of physical contact, overlap, gesture, or glance. His demeaning role of cleaning up after the animals is clear, but his inclusion in the painting is not. Does his presence suggest Cowles's protest, approval, or simple acknowledgement of a harsh reality?
Overall, Cowles's County Fair is a positive image, fondly recalling his early life experience. He stated, "Everyone has, buried deep in him, such old memories of one sort or another, and it seems to me inevitable, if he is a painter or a writer, for instance, that they will color his later work.4
1 Statement by Russell Cowles, 18 July 1944, registrars files, Wichita Art Museum.
2 Ibid.
3 Ibid.
4 Russell Cowles quoted in Kraushaar Galleries, Russell Cowles Landscape Paintings (New York: Kraushaar Galleries, 1973), foreword.