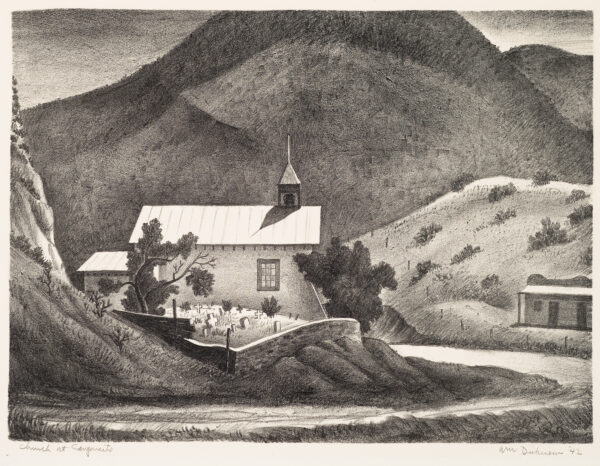 Church at Canyoncito
Dickerson, William J.
1942
---
Artwork Information
Wichita Art Museum, Gift of Leta M. Smith
---
About the Artwork
William Dickerson, a native Kansan, was an important figure in the artistic life of Wichita. He studied and taught at the Art Institute of Chicago before establishing himself in Wichita where he directed the School of the Wichita Art Association for forty-one years. As a young man he was a protégé of Ed Davison's and later a member of the Prairie Print Makers group. Davison encouraged Dickerson to go to Taos, introduced him to Walter Ufer and brought him into the practice of spending summers in New Mexico.
Dickerson's approach to recording the landscape of New Mexico was to drive about the countryside for hours at a time, just looking and taking it all in. Then, when he came upon a view, which particularly attracted him, he would stop and set up his easel. However, instead of describing exactly what lay before him, he used a particular scene as a focus for the synthesis of landscape elements he had been observing. When people saw one of his paintings they would often claim to know the very spot he had painted and swear that every detail was correct.