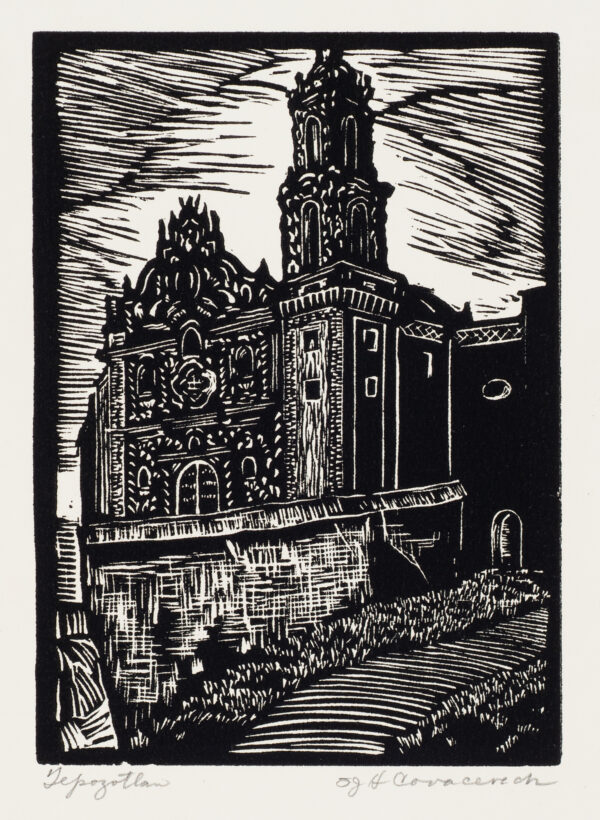 Chapel of the Convent of Tepozotlan
Covacevich, Sue Jean
1941
---
Artwork Information
Chapel of the Convent of Tepozotlan

Wichita Art Museum, Gift of Teresa Covacevich Grana in memory of Michael J. Grana, MD
---
About the Artwork
Birger Sandzén, with whom she studied in 1927, was Sue Jean's first artistic mentor. Throughout her entire body of work there is a debt to Sandzén. That debt is not manifest in her style, for she was not one of the many students of Sandzén who stayed strictly loyal to his style and palette. Rather, her debt is manifest in her expressive use of form and color, her dedication to the technique of block printing, and her passionate belief that good art enhances life—even encourages a life well lived.
Another artist of Sandzén's generation who influenced Sue Jean is the American modernist Marsden Hartley. Sue Jean shares with Hartley a bold use of high-key color and looseness of brushwork that almost electrify the painting. Again, the relationship between the two artists goes beyond style: both looked to other cultures, such as Mexico or the American Southwest. Hartley and his colleagues suggested that American culture had become inbred. By engaging with visual traditions that had not been emasculated by the sophistication of the genteel tradition, these artists hoped to regain vitality in both life and visual expression.
In 1930 Sue Jean traveled to Mexico to see firsthand the new work that was reshaping and reinvigorating the tradition of mural painting. Foremost among these revolutionary artists was Diego Rivera, who critiqued Sue Jean's work during her residency at the San Carlos Art School. Sue Jean lived in Mexico for 12 years, returning to Winfield, Kansas in the 1940s. The influence of her Mexico experiences can be seen in her book Impressions of Mexico and her print portfolio Churches of Mexico, but even more grandly in the murals she executed here. Her murals for the First National Bank in Winfield (1951) pay tribute to Diego Rivera through their broad and inclusive depiction of local society and industry.
Late in her life she moved from the example of her earliest mentors, who practiced an expressive realism, to pure abstraction. It is likely that she was inspired to create this pioneering abstract work by the writing of influential art critics such as Herbert Read. The boldness of her abstraction fed her zeal for spreading the word—and example—of an art of pure form.