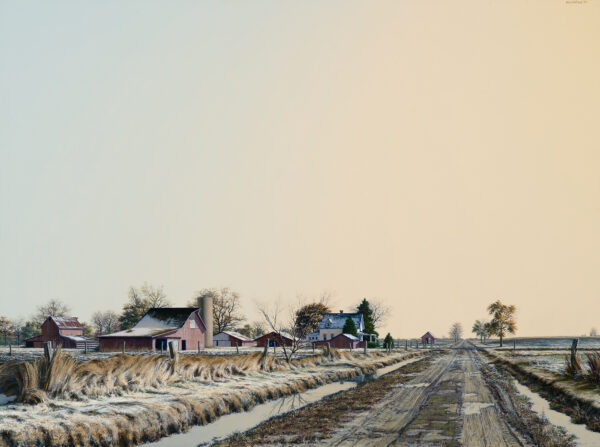 Champaign
Jackson, Billy Morrow
1984
---
Artwork Information
Wichita Art Museum, Gift of the American Academy and Institute of Arts and Letters, Hassam and Speicher Purchase Fund
---
About the Artwork
This painting is an oil on Masonite titled Champaign and executed in October 1984, by the contemporary American realist, Billy Morrow Jackson. The work of­fers a familiar view of the American prairie landscape. At a glance the painting evokes the appropriate physical sensations of the early autumn season depicted and of a variety of natural textures shown, as for example the wood siding of the red barns, the ruts in the muddy roadway, the crispy white frost that has settled on the foreground weeds and on the rooftops, and the yellow­ing tree leaves of early fall. The relatively low horizon is accompanied by a vast area of open and all-embracing colored sky with tonal gradations ranging from a ra­diant yellow-orange glow at the right of the composition to a delicate and cool pale blue at the left.
What is so especially fascinating about this painting is that we experience many surprises as we explore the scene presented. For, while the artist has quite obviously demonstrated an interest in methodically furnishing a meticulously accurate rendering of a prairie landscape, his even greater concern has been in focusing attention on the component details so harmoniously interlocked in reality, yet more often than not totally overlooked as we casually cast our eyes across the world of actual reality in which we live.
It is in pursuing this approach in painting that the ar­tist intensifies our vision by making us more keenly aware of the minutiae of nature and at the same time promptly reminding us of the immensity of creation and its many and varying dimensions.