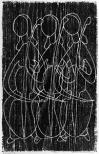 Close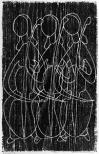 Cellist #2
Carstenson, Cecil C.
about 1950–70
---
Artwork Information
Wichita Art Museum, Gift of the artist and Blanche Carstenson
---
About the Artwork
Carstenson worked in the modern American sculptural movement of the direct carving school. He devoted himself to the making of sculpture for more than 50 years, creating over 1400 sculptures. At one point, his wife Blanche persuaded him to try his hand at printmaking and inspired Cecil's experimentation with the woodcut medium.
"I would never try to convince anybody that one medium is better than another. That is not true. One medium is probably more appealing to you, the artist, and to you, the observer. This is natural.
One real advantage of working in wood is that you do it all. You are not involved with dealing with a metal caster or a welder or a finisher. The last chapter showed that your tools can be relatively inexpensive and easily bought. You do not need an elaborate work area either.
The most obvious difference between wood and other media is its natural character, its color, grain and feel. Nature creates fantastic designs in wood."
                                                                                    Cecil Carstenson
                                                                                    The Craft and Creation of Wood Sculpture
                                                                                    Dover Publications, NY, 1981