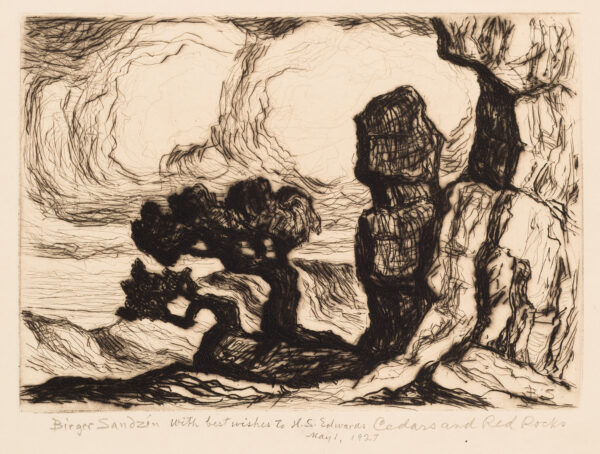 Cedars and Red Rocks
Sandzen, Birger
1922
---
Artwork Information
American (born in Sweden), 1871-1954

Wichita Art Museum, Gift of Ms. Louise Powell
---
About the Artwork
Birger Sandzén came to Lindsborg, Kansas, in 1894 as a young man lured by romantic legends of the American West and by the challenge of bringing higher education to the frontier. Sandzén was able to teach foreign languages, music, and painting. He assumed a natural leadership in fine arts.
As a painter, Sandzén preferred the subject of landscape. He found the big skies and brilliant light of Kansas delicious. Using large brushes to lay on thick strokes of bright raw color, Sandzén created an energized vision of nature, which expressed his passion for his new country. In addition to his appreciation of the Kansas plains, Sandzén enjoyed the desert and mountain landscapes of the Southwest. He made numerous trips to Colorado, Utah, and New Mexico to paint.
Sandzén inspired many art students and colleagues. He was a founding member of the Prairie Printmakers and was elected to membership in the Taos Society of Artists in 1917. He continued to teach regularly at Bethany College, but also accepted invitations to conduct workshops and special classes at colleges and art associations throughout the region. During the late 1930s and early 1940s the federal government commissioned Sandzén to paint murals in several public buildings, among them the U.S. Post Office in Halstead, and Lindsborg, Kansas.
Birger Sandzén died in 1954. His daughter Margaret and her husband Charles Pelham Greenough, III, established the Birger Sandzén Memorial Gallery in Lindsborg in 1957.